Posted 27th September 2017 | 3 Comments
Alstom and Siemens announce merger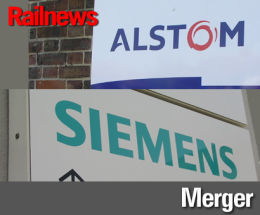 FRENCH train-builder Alstom is to merge its rail business with German-based Siemens Mobility. The new company is intended to be a 'European champion', competing more effectively with the Chinese state-owned rolling stock builder CRRC.
Siemens CEO Joe Kaeser said: "This Franco-German merger of equals sends a strong signal."
In a statement, Siemens said: "The transaction brings together two innovative players of the railway market with unique customer value and operational potential. The two businesses are largely complementary in terms of activities and geographies. Siemens will receive newly issued shares in the combined company representing 50 per cent of Alstom's share capital."
The two companies have tended to dominate the European rolling stock market, with Alstom having built the French TGVs as well as the first generation of Eurostars and several British domestic fleets, including Pendolinos.
However, the French company received a setback when Siemens won the contract for the latest fleet of 320km/h Eurostars.
Reader Comments:
Views expressed in submitted comments are that of the author, and not necessarily shared by Railnews.
I don't think this merger will have a great impact on Bombardier in Derby. Very few UK train orders have gone to Alstom in recent years - a great many more have been won by Derby. Don't forget, we now have Hitachi who, hopefully, will be doing a lot more for UK manufacturing (as opposed to merely assembling imported high-tech components from Japan). Also CAF want to build a factory in South Wales.

Never mind the Chinese,whats going to happen to the small fry i.e. Bombardier in Derby? judging by the governments past record of giving rolling stock orders to both Alsthom and Siemens we could lose the UK's only train building firm