Posted 18th December 2019 | 5 Comments
Government 'to go ahead' with law to limit rail strikes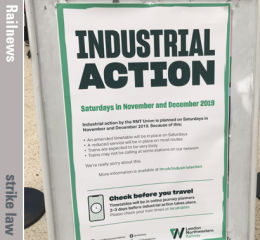 Updated 10.55

A NEW law limiting the ability of rail unions to disrupt services by industrial action can be expected in the Queen's Speech, it has been reported.
The Conservatives had outlined such a law in their election manifesto, and transport secretary Grant Shapps has told the Evening Standard that the new legislation will require a 'bare bones' service to be provided during walkouts, although the extent of such services has yet to be revealed.
Mr Shapps said the law would uphold the 'basic right' to get to work, and that union leaders would be prevented from 'holding to ransom' rail users.
The transport secretary is quoted as saying: 'The ability of a few people to prevent everyone from being able to earn a living has to come to an end. The new law will prevent London being brought to a standstill, with all the additional environmental damage done by people reverting to cars.'
The RMT is planning to stage a protest outside Parliament tomorrow.
RMT general secretary Mick Cash said: 'It hasn't taken long for the true colours of this new Tory Government to emerge and tomorrow we will be kicking off the fight back against their new raft of anti-union laws.
'Nobody should be under any illusions about the scale of the threat now being lined up against the trade union movement. Banning strikes and denying workers the basic human right to withdraw their labour has been the hallmark of hard right, authoritarian regimes throughout history.
'It is no coincidence that this threat comes while our members on South Western Railway are continuing a month of rock-solid action in defence of the basic principle of a rail service that is safe and accessible for all.
'Instead of attacking rail workers fighting to defend safety and disabled access any responsible Government would be tackling the scandal of private profiteering on Britain's railways which has reduced services to chaos.'
South Western Railway is maintaining limited services on its main routes as the RMT sfrikes continue. At the moment, unless there is a new breakthrough, the strikes seem likely to continue as planned until 2 January.
Reader Comments:
Views expressed in submitted comments are that of the author, and not necessarily shared by Railnews.
Why is the Transport Secretary only bothered about London being brought to a standstill? What about the rest of the country?

Drivers decide to strike, law says they cannot, so they all call in sick or work to strict rule book rule and decide no rest day working or voluntary overtime for the foreseeable future. What happens next? Sack the drivers?

And there was much (well, some - depending on the definition of "bare bones") rejoicing in the land.
OK Cash - a majority government, so it's your last chance to abandon your politically motivated DCO strikes and join the rest of us in the 21st century and make a deal with SWR (& the others) before one is imposed on you.

Depending on the extent of any 'bare bones' service required to be operated by union members, the prospect is raised of a virtually full service being run on strike days, if management are trained as stand-on guards, as is the current practice.

Mick Cash and the other militants at the top of the RMT, who have for years refused to negotiate seriously about working practices and simply order walk outs, have brought this on themselves.