Posted 17th September 2019 | 7 Comments
£26m to rescue Island Line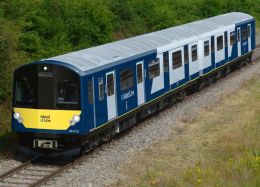 THE uncertain future of Island Line has been secured by a new rolling stock deal as well as a Network Rail commitment to renew the pier at Ryde, which carries the line into the town. The investment will total £26 million.
The five two-car Class 484 sets will be D-Trains from Vivarail, which has been converting former London Underground District Line cars into various types, including battery and diesel versions. The aluminium-bodied cars are also being extensively modernised and upgraded, gaining accessible toilets for the first time since they were built for London Transport around 40 years ago.
Their arrival for testing next summer will be welcomed on the island, because the 13.7km line between Ryde and Shanklin has been served for many years by 1938 tube stock, which was also cascaded from London Underground. It has been the only pre-war rolling stock still running on National Rail, but the small fleet has become harder and more expensive to maintain, and Island Line has just announced that the present service will be reduced to hourly because one of the existing sets needs repairs.
The proposals were developed in partnership with stakeholders including the Isle of Wight Council and Solent Local Enterprise Partnership. They have agreed to jointly contribute £1 million to fund a new passing loop at Brading, which will allow a half-hourly service to the pier at Ryde.
The Department for Transport is also providing funds to renew track and other infrastructure, and this work will be carried out later next year.
Rail minister Chris Heaton-Harris said: 'This investment in the Island Line means more punctual, reliable trains and better connections to ferry services, supporting local residents, businesses and tourism. This underlines our determination to provide passengers across the country with the modern rail network they expect.'
South Western Railway managing director Andy Mellors added: 'This is a great day for the Isle of Wight. I want to pay tribute to our team at Island Line who have kept the current 1938 stock going for so long and to all of the stakeholders who helped us develop our proposals. I look forward to our continuing partnership as we deliver the next exciting chapter in Island Line's history.'
Vivarail CEO Adrian Shooter said: 'It is a great privilege for Vivarail to be part of the wholesale upgrade of the Island Line. Vivarail will be building third rail trains to make best use of Island Line's electrified track. This follows on from our diesel units for West Midlands Railway and battery/diesel trains for Transport for Wales – and is an example of how flexible the train is. I look forward to taking the first ride.'
Reader Comments:
Views expressed in submitted comments are that of the author, and not necessarily shared by Railnews.
Although the line is "gauge 0" and narrower loading gauge than any other *mainline* railway in England, it's big enough that the London Underground sub-surface stock can fit. Doesn't have to be tube trains.

I thought the tunnels were too low for larger Trains. Am I wrong?
[Yes, bluntly! It's a bit of an urban myth that only tube stock will fit in the tunnels at Ryde. We are assured by Vivarail CEO Adrian Shooter that gauging trials have been carried out (of course) and although it will be a fairly tight fit, the D-Trains will go through. SWR has also told me that various bits of infrastructure tweaking will be necessary elsewhere on the IoW line, but nothing too dramatic, apparently--Editor.]

One problem at Brading, the footbridge. Was there Saturday and the "one person at a time on footbridge" sign is still there. Not sure if you're allowed on it if the station cat is on the bridge. Still I'm sure Network Rail can replace it for a few million quid.

The Class 483 have practically had it even though they kept on going but they are getting so old which they are 81 years old. Which is why Vivarail are converting the former LU D78 stocks and numbered them as Class 484 which hopefully these new sub-surface trains will soon be in service from summer next year.

Yesterday's announcement will be a huge boost for Brading, as our Town Council run the Station buildings as a Heritage Museum, and tearooms. Our Signal Box tours are very popular with enthusiasts, and we are very grateful to SW Railways and the Railway Heritage Trust for grant funding to refurbish this Grade 2 Listed building.
The announcement shows that SW Railways and the government have confidence in our Island as a sustainable tourist destination.

Silly question, but D-Trains aren't (deep) tube trains. How then will they fit through the restricted loading gauge tunnel(s). Is the track being lowered or something?