Posted 23rd July 2019 | 3 Comments
Boris Johnson is new Prime Minister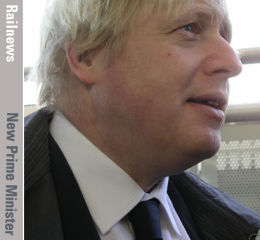 BORIS Johnson has won his battle to become Prime Minister, and his appointment may have raised fresh doubts about HS2.
The results of the election were announced by Dame Cheryl Gillan a few minutes after midday.
Mr Johnson gained 92,153 votes, and his rival Jeremy Hunt 46,656.
Mr Johnson will travel to Buckingham Palace tomorrow, where the Queen will ask him to form a government.
However, Theresa May will have tendered her resignation to the Queen first, after attending her final Prime Minister's Questions Time in the Commons.
Mr Johnson formally becomes Prime Minister after his visit to Buckingham Palace, and an early cabinet reshuffle seems inevitable, particularly as several ministers have said they will not serve under him because they do not support a no-deal Brexit, which he is not ruling out.
Mr Johnson has also put HS2 in doubt, because he has already begun a review of the project amid predictions that the cost of building high speed lines between London, Birmingham, Manchester and Leeds could rise by £30 billion to around £87 billion.

Reader Comments:
Views expressed in submitted comments are that of the author, and not necessarily shared by Railnews.
Bad news for the anti-HS2 Luddites. The Treasury in under the grip of Sajid Javed. Pro high speed rail. Shapps has also been a consistent supporter.

Find something else to moan about!!

First bit of good news for awhile,lets hope good riddance for this 85bn(and rising) vanity project,spend it on Hospitals,Policing,Defence instead