Posted 17th June 2019 | 4 Comments
South Western strikes set to go ahead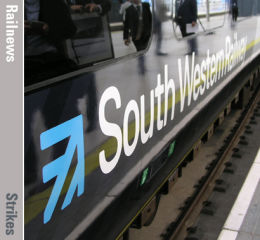 FIVE days of strikes are set to go ahead on South Western Railway from tomorrow, after new talks failed to reach agreement over on-train staffing and the role of guards.
The walkouts will close the Shepperton branch, and trains on the Hampton Court branch will run only when passengers will be travelling to and from a music festival, while limited services will also run for Royal Ascot.
Other sections with no SWR trains will include Virginia Water-Weybridge, Effingham Junction-Epsom, Worcester Park-Chessington South, and Exeter Central to Exeter St David's. Many other services will be reduced, and buses will replace trains from a number of stations.
The RMT says SWR 'is refusing to give assurances on safe operation', but SWR said the failure of negotiations and the start of strikes was 'very disappointing'.
RMT general secretary Mick Cash said: 'Our members have been left with no choice but to go ahead with strike action tomorrow. They are angry and frustrated that despite suspending action in good faith, and entering into talks in a positive and constructive manner, South Western Railway have dragged their heels and failed to bolt down an agreement that matches up to our expectations on the guard guarantee.
'Worse than that, the company have refused to give assurances on the future operational role of the guard fuelling fears amongst our members of a stitch up. That situation has been compounded by an insistence that future operational models will be governed by the protection of company profits and not the safety of the travelling public.
'For more than three months we have sought to negotiate a conclusion to this dispute and it is wholly down to the management side that the core issue of the safety critical competencies and the role of the guard has not been signed off.'
South Western Railway said the strikes were 'unnecessary'. The company added: 'It's very disappointing that despite having had dates in the diary for what we hoped would be further constructive talks, the RMT union decided to call disruptive strike action over the course of five days. Only this week, we met with the union and agreed to arrange new dates to get around the table and continue those talks. However, they seem insistent on going ahead with their unnecessary strike next week which will impact our customers and colleagues alike. Clearly, they have decided to target popular events such as Royal Ascot with this cynical action which is driven by internal RMT politics.
'The RMT has always said it wanted us to keep the guard on every train which is what we have offered as part of a framework agreement. We want to move the conversation on to how we operate our new trains and take advantage of the new technology on board to benefit our customers. We remain committed to finding a solution that will help us build a better railway for everyone. We will do everything we can to keep customers moving during these strikes but would like to apologise for the disruption this unnecessary action will cause.'
Reader Comments:
Views expressed in submitted comments are that of the author, and not necessarily shared by Railnews.
The Scotrail outcome can hardly be called a sensible compromise. The driver should be responsible for closing doors and ensuring the train is safe to depart. Adding a second person into the decision making adds a safety risk that should be avoided. Accident reports suggest that trains with guards operating doors are subject to as many accidents (or more) as those where the driver operates the doors.
Where appropriate, 'despatch' assistance should be given by station staff, which is good justification for retaining them when there is so much pressure to get rid of them.

Interesting that a similar dispute on Scotrail got resolved within a few weeks with a sensible compromise - driver opens the doors ( little safety hazard) and conductor / guard to close them( much more risk of accidents).

I can only guess there is al lot of political "axe grinding" going on. On one side, the unions wanting to disrupt services, so as to alienate the travelling public and lead them to clamour for renationalisation, and on the other, a government who see it all as an opportunity to bring about disempowermeent of the unions.



Passengers don't want invisible 'guards' on trains. Fiddling with door buttons and bell signals.

Passengers want revenue protection and security.

I hope RMT members turn on the Corbynite loons leading them endlessly into pointless political industrial action.

Good luck SWR. I hope you manage to run trains and defeat the dinosaurs.