Posted 22nd May 2019 | 1 Comment
RMT celebrates 'inflation busting' pay deal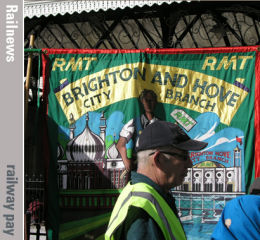 A TWO-YEAR pay deal has been agreed by Network Rail and the RMT, which the union has described as 'inflation busting'.
It has voted to accept the offer, which involves an increase of 3.2 per cent (with a minimum of £555 for full-time staff) and a further increase in January 2020 which will be the equivalent of the Retail Prices Index in November this year. This increase will be at least £575 for full-time staff.
RMT general secretary Mick Cash said: 'We have negotiated an inflation busting deal with Network Rail which maintains a link to RPI and gives a minimum uplift of wages.
'I'd like to congratulate the RMT reps who ensured that we have a decent two year deal with job security for our members.'
Transport secretary Chris Grayling has suggested that railway pay rises should be linked to the Consumer Prices Index rather than the higher but discredited Retail Prices Index. At the moment, regulated fares also remain linked to the RPI, with the January changes linked to the RPI of the previous July.
Mr Grayling wrote to the rail unions last August, when he said: 'One of the industry's largest costs is pay. I support paying rail staff decent wages for the hard work they do, but I also now believe it is important that pay agreements also use CPI and not RPI in future when it comes to basing pay deals on inflation.
'I am not opposed to above inflation pay increases being individually negotiated between trade unions and employers in the industry where there are productivity or similar improvements that create the financial headroom. But it is difficult to justify using a different measure of inflation in the rail industry to the one that is widely used across services like the NHS.'
His remarks received a hostile response from the unions, and the RMT vowed to oppose any attempts to impose a pay cap.
The Office of National Statistics says the method of calculating the RPI has 'drawbacks' as a measure of inflation, saying: 'RPI is a very poor measure of general inflation, at times greatly overestimating and at other times underestimating changes in prices and how these changes are experienced.'
Reader Comments:
Views expressed in submitted comments are that of the author, and not necessarily shared by Railnews.
Maye the Office of National Statistics should stop producing RPI statistics. Only the CPI left? Problem solved. Of course that applies to fares too.