Posted 5th March 2019 | 2 Comments
Union rejects open access proposal as 'nonsense'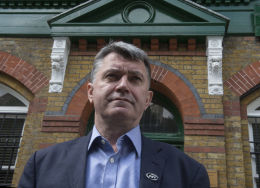 Mick Cash: 'The idea is bonkers'
THE Adam Smith Institute has called for long-distance franchises to be replaced by open access operators, arguing that fares are lower on open access routes and passengers are happier.
The Institute has made similar points before, and its latest report is timed to coincide with the inquiry into the rail industry being carried out by Keith Williams on behalf of the Department for Transport. His recommendations are due to be published as a White Paper in the autumn, but he has already said that the franchising system will need to change, although he has effectively ruled out further nationalisation, saying 'It is no longer helpful or relevant to see the industry purely in terms of ownership, being state run or privatised.'
The Institute is also opposed to nationalisation. Its report, 'How to make long-distance work: fixing Britain's railways with open access', says: 'There have been growing calls for renationalisation. However, this is not the answer as it will not deliver the benefits that the public rightly expects.'
The report points out: 'Firstly, there are commuter and loss-making rural routes. These could be considered essential public services that deliver – or have the potential to deliver – wider social and economic benefits. Secondly, there are long-distance routes aimed at leisure and business travellers. These are mostly profitable routes, opening the possibility for a commercial model.
'It is on these long-distance routes that "head to head" rail competition would deliver a far more satisfactory outcome and better value for passengers and taxpayers. While competition is not a panacea for all routes, on these key routes it would deliver huge benefits.'
The proposals for more open access have been rejected by the RMT.
The union's general secretary Mick Cash said: 'The idea that the problems on Britain's railways can be solved by more fragmentation and opening up the opportunity for a handful of additional cherry-picked, open access agreements on a few long distance routes is clearly nonsense.
'This report has been written by the same hard-line ideologues who lumped us with the nightmare of rail privatisation in the first place. The idea that the solution is more of the same is bonkers and out of line with the views of the 70 per cent of the British people who want a return to public ownership.'
The Office of Rail and Road indicated in December that it was considering an expansion of open access, but also sounded a note of caution at the time.
The ORR's senior manager for competition economics Beth Tasker said: 'There is a risk that open access operators might cherry pick the most profitable services. In the GB rail market, where there is a lot of public subsidy of franchised services, this would result in the cost of the railway to government going up. Our policy must take this into account.'
Reader Comments:
Views expressed in submitted comments are that of the author, and not necessarily shared by Railnews.
I'm no extreme Tory, and have been a "floating voter" for decades ; nevertheless this Adam Smith proposal seems to give a radical new way forward that brings new opportunities , unlike Mick Cash's " back to the future" option.

For one thing, socially neccessary loss-making service is still catered for , hopefully a lot closer to the people than going via Westminster / Whitehall.

For once I agree with Mick Cash, take East Coast trains Edinburgh to London offering. If it was about providing links to Air passengers the service would run Edinburgh to Stanstead also providing a useful through service between the North and Cambridge. Instead it is about abstracting revenue on LNER's premier route, and the arguement about choice would sit better if East Coast had to pay more than LNER's access cost.