Posted 19th December 2018 | 7 Comments
Discreet open access plan sparks Christmas fluster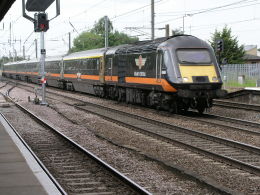 THE RMT is objecting vigorously to a proposal published by the Office of Rail and Road which could mean more open access operators being allowed to run trains in return for paying higher track access charges.
Although the idea was discreetly unveiled in a blog on the ORR website on 3 December it was given little publicity, and has only been attracting attention over the past 48 hours. Even so, some media sources have reported the proposals as if they have just been published.
The author of the blog is the ORR's senior manager for competition economics, Beth Tasker. She says: 'Open access operators compete with franchised train operators. The competition they introduce has been shown to deliver significant benefits. These include lower fares, improvements to service levels and growth in the market for rail travel. They were also the first to introduce innovative services, such as free WiFi for all passengers.
'However, there is a risk that open access operators might cherry pick the most profitable services. In the GB rail market, where there is a lot of public subsidy of franchised services, this would result in the cost of the railway to government going up. Our policy must take this into account.'
RMT general secretary Mick Cash responded: 'The rail regulator's proposals will open the door to yet more fragmentation and profiteering on Britain's broken railways as private companies are given a chance to cherry pick lucrative contracts on a limited number of routes while the rest of the system is allowed to sink deeper into chaos.'
He continued that the plans 'will not only do nothing to ease the pressure on basket case franchises like Northern and Govia Thameslink, they will make it worse. This is a mirror image to the carnage that was unleashed when deregulation was brought into our bus services.'
The rules could change in April, but no new open access operators are expected to start running services before 2020.
Reader Comments:
Views expressed in submitted comments are that of the author, and not necessarily shared by Railnews.
I would like to see open access operators being allowed to run certain services that are NOT currently run by franchise holders. One example would be Liverpool to Bristol (and beyond), which was withdrawn over 10 years ago during the Virgin Cross Country tenure. Nowadays, passengers from Merseyside and, for that matter from north of Weaver Junction, have to change at Birmingham New Street so a direct service could be open access - providing it will not form part of the new Cross Country franchise!

It seems to me that these disputes aren't just one side ( the unions ) at fault . Why did a similar dispute on Scotrail get resolved within a few weeks , with a sensible compromise ? It seems that all three parties , the unions, the train companies and government are each trying to push their own particular political agendas in all this.




Of course Mick Cash will oppose new Open Access Operators because the competition they provide undermines RMT industrial muscle and industrial action.

It also offers passengers more choice.

An excellent idea though pure cherry-picking of the best services needs to be prevented.


Err, Mick ... you do realise the Grand Central and Hull Trains are just about the only bit of rail privatisation that's got public support?

Are you saying these services should never have been introduced?

Perhaps we could get an open operator to compete with GTR to provide a better service at reduced costs! This is what we need not tinkering at the edges in my view.
Martin

Re - read the report from the Competition and Markets Authority report on rail competition , and especially their Option 4 prescription.

Personally, I favour a "horses for courses" model, where captive market natural monopoly operations, such as most commuter, come under local direct democracy cooperatives, whilst intercity / longer distance services are provided through long term commercial competition , with the abolition of fixed - term, fixed contract franchises. Naturrally, operators should be licensed and pathing demands would need to be administered centrally.

What is an open access operator?
[See www.railhub2.co.uk/rh7/revealed/rai_article.php?doc=10656903 --Ed.]