Posted 19th November 2018 | 3 Comments
Most likely causes of rail growth unveiled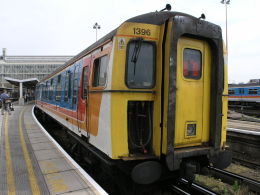 A NEW analysis has concluded that the growth in demand for rail travel has been caused by changes in working and living patterns since the 1990s, and that some of this growth is 'beyond the rail industry's control'.
The conclusions from a think tank, the Independent Transport Commission, have been welcomed by Network Rail chairman Sir Peter Hendy, who is also patron of the ITC.
Demand for rail travel has soared since the mid-1990s, and politicians in favour of privatisation have routinely claimed that breaking up British Rail and bringing in the private sector was the main reason.
The ITC, though, says that a greater percentage of the population is now travelling by train because of 'major economic and spatial changes', which have prompted a 58 per cent rise in the number of passengers travelling by train to work, or for other business purposes.
The places where people are living have changed, and there have also been 'significant structural changes to the UK economy' over the past 25 years.
The report – 'Wider factors affecting the long-term growth in rail travel' – was researched by statistics specialists Ian Williams and Kaveh Jahanshahi, who found that major shifts in housing locations and the jobs market have increased the tendency for people to use rail.
Increases since the 1990s have been accompanied by a rise in the general population of 15 per cent, but the number of rail journeys doubled over the same period, amounting to an increase of 100 per cent.
Changes in the job market have played a part. Many more people work in offices now and fewer in manufacturing, and it is office-based workers who are more likely to commute by train. However, it adds that 'recent circumstances have been considerably less favourable to encouraging rail growth than the circumstances typical of the earlier years following rail privatisation'.
The sharpest increases in job growth since the 1990s have been in south east England, and these have been accompanied by the biggest rises in demand for rail travel. One figure demonstrates the pattern: if the population in a rural area increases by 100, it includes six extra rail commuters. In London, however, a similar population increase typically includes 49 extra rail users.
Regional differences are also demonstrated by the fact that 35 per cent of all London area commuters use rail, including light rail and trams, while in the East Midlands, South West England and Wales the figure is 2 per cent.
Network Rail chairman Sir Peter Hendy said: 'I very much welcome this ground-breaking new research study by the ITC which demonstrates how significant changes to the economy and housing location have contributed towards rail passenger growth in Britain. The ITC's report illustrates the importance of joined-up policy making if we are to continue to enjoy the renaissance in rail usage that has been such a feature of the last two decades.'
ITC director Dr Matthew Niblett added: 'While rail investment has accelerated since privatisation, it is clear that the growth in passenger numbers is also down to factors beyond the rail industry's control. With Brexit on the horizon, an industrial strategy developing and a housing shortage in the South East and London continuing, it's important that economic and planning challenges are considered alongside transport policy, as is the case with the East West Rail and Northern Powerhouse Rail.'

Analysis
Sim Harris
Politicians in favour of the private sector have been routinely claiming for many years that it was privatisation which boosted demand for rail travel, although the evidence was strictly circumstantial. True, demand began to grow at the same time as the industry was being privatised, from 761 million individual trains used in 1995 to 957 million in 2000.
These figures are sometimes miscalled 'journeys' although they actually count each train used in the course of a journey, but the growth is undeniable, amounting to almost 26 per cent between 1995 and 2000. What politicians never could explain is why mere changes of management and control could cause such a huge boost, particularly when the improvements required of the new franchise-holders mostly took at least five years to become reality. Virgin, for example, launched the Intercity West Coast franchise in 1997, but the first tilting Pendolinos did not carry passengers until 2002.
New fleets for other franchises, such as LTS/c2c, took almost as long to arrive, while a number of first-generation franchise contracts were fairly unambitious, with no major rolling stock changes envisaged for East Coast or Great Western, nor for the regional franchises in the north of England.
On the other hand, substantial changes were planned for the three third-rail franchises south of London, but once again new trains to replace the old slam-door stock were not appearing until the turn of the century (the last slam-door train did not leave London Waterloo until May 2005).
This report is probably the best analysis so far of what has really been going on, but don't expect the politicians to admit that they were wrong.
The last three years have seen falls in season ticket travel in particular, although these may be at least partly related to the disruption caused by industrial action and, more recently, unworkable timetables.
Modest growth has restarted recently, but fewer people are using season tickets, and the authors suggest changing circumstances may have reduced the likelihood of growth continuing on such a scale as we were seeing 20 years ago. We can only guess the implications of that for longer-term planning.
Reader Comments:
Views expressed in submitted comments are that of the author, and not necessarily shared by Railnews.
Must have a lot to do with immigration as well! Most immigrants dont arrive with a car.The planning over immigration has been very poor especially when it comes to transport.Most Beeching cuts of the 60s and Castle cuts in 1972 (Labour) must be reversed.Many lines must be re-opened.

It is inevitable that growth will stagnate while the network is not expanded. You could count on one hand how many new lines we've seen in the last ten years and the number of new stations is bordering on pathetic, especially given the dramatic growth of urban areas over the same period.

Many new line proposals are commercially viable and some still even have the tracks in place, but most of these are no closer to seeing trains running on them again. The rail 'renaissance' over the last quarter of a century has been a massively wasted opportunity.

I read an interesting article that said young people (under 21) were much less likely to take Driving Lessons that previous generations and that the desire to own a car has reduced. They were more content to use Buses and Trains to go into Town for Social Purposes. Many City/Town Buses run all night and these may supplement Rail Travel.