Posted 9th January 2019 | 1 Comment
Abellio approaches cliff edge with ScotRail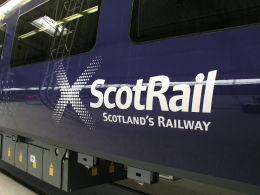 THE Scottish Government has come its closest yet to threatening Abellio with the loss of its ScotRail franchise, as performance levels continue to fall below targets.
Abellio now has eight weeks to demonstrate improvements before further action is taken.

Transport secretary Michael Matheson, answering a question from Labour MP Colin Smyth in the Scottish Parliament, said: 'I have been absolutely clear that the recent performance on our railways has been unacceptable. Consequently, before Christmas, I instructed Transport Scotland to serve a contractual notice on ScotRail that it must prepare and submit a remedial plan to reduce cancellations and improve reliability to contract requirements.
'I expect ScotRail to set out in the remedial plan how it plans to address the performance issues, to ensure that they can be realised and that the full benefits of the Scottish Government's record investment in our rail network is then received by service users.
'Over the festive period, I have been in regular contact with senior officials at the ScotRail Alliance, where I left them in no doubt that appropriate and swift action was required. There has been a marked improvement since then. On Monday 7 January and Tuesday 8 January, ScotRail had appropriately trained train crew available for all services. I will continue to monitor that daily, to ensure that ScotRail meets its training programme to remove train crew cancellations over the coming weeks.'
Calls to nationalise ScotRail have continued in the face of the problems, and the Scottish Government also wants Network Rail to be devolved north of the border.
Mr Matheson continued: 'More than 50 per cent of delays to ScotRail trains last year were caused by Network Rail, so fixing ScotRail's train crew problem will not be enough. It is essential that Network Rail in Scotland be fully aligned with the Scottish Government's priorities and fully accountable to the Parliament. Only then will it be possible for Scotland's rail system to be managed properly, as one system.'
The position now is that ScotRail must now recover performance by 'around' 18 February.
Mr Matheson added: 'If it fails to do that, it will be in breach of the contract. Any organisation that is in breach of its contract could be fined, costs could be increased for certain services that it provides to the taxpayer or the contract could be removed.
'The requirement to produce a remedial plan has serious implications for the contract holder. It is not something that would be issued on a whim because of individual problems on a limited number of occasions. There has been a series of problems over a period of time, which I do not believe is acceptable.'
ScotRail Alliance managing director Alex Hynes responded: 'We know that the service our customers have received hasn't been good enough recently. Everybody at the ScotRail Alliance is working flat out to deliver the improvements our customers expect and deserve. ScotRail will submit a remedial plan to Transport Scotland within the timescale.'
Reader Comments:
Views expressed in submitted comments are that of the author, and not necessarily shared by Railnews.
So does that mean Abellio could lose its franchise and the Scottish Government to take charge of the Scottish rail franchise. Whilst Abellio will retain their Greater Anglia (East Anglia), West Midlands (Joint venture with JR East/Mitsui) and Merseyrail (Joint venture with Serco) franchises.
[Abellio does appear to be at risk in Scotland, as our story makes clear. There is no relevant connection with the other franchises you mention.--Editor.]