Posted 12th November 2018 | 8 Comments
ScotRail franchise faces early termination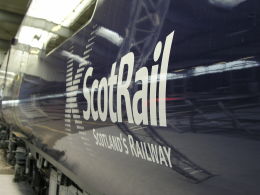 THE Scottish Government could be poised to exercise a break clause in the ScotRail contract in 2020, ending the Abellio franchise in 2022, but this will depend on the result of a crucial vote in the Scottish Parliament this week.
Dissatisfaction with performance has fuelled criticism from politicians as well as passengers, and MSPs are set to vote in two days from now on a Labour motion to return ScotRail to public ownership.
Abellio, the overseas arm of Dutch Railways, has already been forced to prop up ScotRail with a cash injection of £10 million, and has also been hampered by delays affecting enhancement plans. The Hitachi fleet ordered for the Edinburgh-Glasgow Queen Street electrification had curved windscreens which proved to distort drivers' view of signals at night, and the trains had to be fitted with different windscreens before they could enter service.
It was revealed last month that transport secretary Michael Matheson has allowed ScotRail performance targets to be waived until June 2019, in a bid to allow an interval for the franchise to recover. However, he was criticised for not informing Parliament, and the TSSA union called for his resignation.
With Wednesday's vote now looming, Labour transport spokesman Colin Smyth said: 'Passengers are fed up with overcrowded, overpriced and late running trains,
'It's time to hit the brakes on privatisation and bring our railways back into public ownership. The SNP claimed that the Abellio contract would be a world leading deal – instead the government has shifted the goal posts on targets and given the franchise a licence to fail.
'For years the Nationalists have said they would work up a public sector bid, but that promise appears further behind schedule than the average train journey in Scotland. If the SNP was serious about a public sector bid it would be ready to step in at the first opportunity to end the franchise. On Wednesday Labour will make the case to end the franchise at the first opportunity, and accelerate the process for public ownership.'
A Scottish Government spokesman said: 'We know performance is not where it should be – that is why ministers can and do hold Abellio ScotRail to account within the terms of the franchise agreement. This includes the ability to end the contract if its terms are not met and it is in the public interest to do so.
'ScotRail performance has remained consistently ahead of the GB average, but that GB average has got steadily worse since Network Rail moved timetable planning for Scotland to its Milton Keynes HQ in 2012. It is clear these essential railway functions must be devolved back to Scotland to allow any franchise operator to perform at its best.'
Railnews has asked Network Rail to comment.
Reader Comments:
Views expressed in submitted comments are that of the author, and not necessarily shared by Railnews.
Afraid its not always the train operator but Network Rails areas of responsibility.
Transport Scotland have a major imput to this disaster unfolding.They are the ones that produce the specifications for new works.
Examples Glasgow-Edinburgh electrification Late and over Budget,
New 385 units.That driver sighting problem should have been identified at test stage.
I could go on but the majority of delays and failures are down to the incompetence of Network Rail's own people.
Nationalisation is not the answer nor is the flinging money at it.

The failure of Scotrail started with caving in to the RMT on extension of DOO/DCO

I have lost count of the number of times Abellio (and Transport Scotland) have promised that things are about to get better in Scotland. I should've been travelling on clean, new electric trains from my local station for the last 2 years but the latest promise is that some trains will become electric from the December timetable change. In addition since First Group lost the franchise Scotrail trains have become progressively more dirty inside which is completely within the control of Abellio.

A large proportion of delays are due to track/signal/infrastructure issues, which are controlled by Network Rail.

Network Rail is not directly accountable to Holyrood.

Not only are train and track split, but train is controlled from Edinburgh which has no say over track.

Thinking is that by fully devolving Network Rail in Scotland to Holyrood that accountability goes up and a more robust working relationship can be created between operators and the track owner.

Further to this its impossible to have a fully nationalised system while someone else (Westminster/Whithall) owns the infrastructure.

Sure, you can take the trains in to public ownership but if all the delays are due to signal and points failures which you have zero influence over, then taking such a step solves nothing.


It is highly interesting that the Labour party in Scotland are taking this step by bringing a motion before Holyrood when they refuse to support full devolution of Scotland's rail infrastructure to the Scottish Parliament.

The solution here surely is to fully devolve not only the train operator franchise but also the network infrastructure accountability also, so that they can be improved and worked together as one holistic system which of course is what a railway is.

To this reader the solution seems fairly obvious.



Unfortunately, "parliamentary accountability" has not worked in the past ( I'm old enough to remember ), The reality has been that parliament doesn't have the time or the expertise to manage all manner of enterprises on top of their basic function.

I'm not against public ownership where appropriate ( eg. for natural monopolies ), but there are other models, such as employee- or customer- owned cooperatives, that can work well.

As far as accountability is concerned, effective competition and direct democracy are more succesfull than trying to channel everything through Westminster and Whitehall.

What nationalisation will do is create accountability. Currently politicians are responsible for agreeing various improvements with the franchisee. When these are broken, it's easy for politicians to simply blame the private company. They are unaccountable for their actions. With a nationalised operator, politicians are forced to actually think about what they're asking the railway to deliver.

Would that jeopardise Abellio's plan to order 10 more Class 385/0 3-Car EMU units. If Abellio may not extend the franchise beyond 2020 from 7 to 10 years. That would make the total of 80 Class 385s on ScotRail (70 Class 385s at the moment). If Abellio loses out on the ScotRail franchise and perhaps another rail company could take over from Abellio. Or perhaps the Scottish government to take over the Scotland railway franchise. With the order of 10 more Class 385s that might happen in the future.

I can't see how Nationalisation would make the situation any better. If a Company trying hard to make a profit can't stop the problems, a committee of Civil Servants and elected Representatives won't fair any better. If Abellio has had to put in £10 Million subsidy already, how much more will Passengers and Taxpayers have to pay in the Future ? Nationalisation won't 'nationalise' any profits as there aren't any; - it will just 'nationalise' the blame.