Posted 27th November 2018 | 4 Comments
Welsh cancellations set to continue indefinitely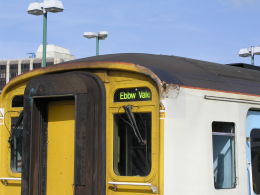 TRANSPORT for Wales has warned that train services are now expected to be disrupted until further notice, because of a combination of autumn conditions and recent storm damage which has left more trains than usual out of service for repairs.
One member of the National Assembly for Wales has protested that the cancellations are affecting mid-Wales more seriously than on other routes, particularly in south Wales.
Russell George, AM for Montgomeryshire, asked: 'What is the rationale for preventing cancellations on Valley lines by cancelling services in other areas, which is what is effectively happening? When Transport for Wales, each day, makes its planned cancellations, does it take into account the social and economic impact of those issues as well, such as on Betws-y-Coed and Tenby, which have year-on-year tourism, or in Newtown and Welshpool, where students go to college on an infrequent service?'
Transport minister Ken Skates admitted that a lack of investment in trains during the previous franchise could have been a factor. He said: 'There have been unprecedented weather conditions, and the Member is right that other rail services might not have suffered quite so badly, but that's because, probably, other rail services had the investment that Arriva Trains Wales rolling stock should have had.'
Mr Skates went on to deny that any part of Wales was receiving preferred status when the cancellations were decided. He said: 'There are no arbitrary prioritised cancellations of certain services over others. The prioritisation is based on a number of factors, including the availability of bus replacement services. However, I am conscious of the need to assure people that fair play is being applied across Wales and across all services.'
The problems which have affected trains in Wales include the lack of wheel slide protection on the existing fleet, which is suffering from an exceptional number of wheel flats after losing adhesion on slippery railheads.
The new concession, which is operated by Keolis Amey under the TfW brand, took over from the Arriva Trains Wales franchise in October. Major improvements are promised, including new trains to replace most of the existing fleet. The headline investment will be almost £5 billion.
Reader Comments:
Views expressed in submitted comments are that of the author, and not necessarily shared by Railnews.
Are KeliosAmey Transport for Wales becoming like Northern and South Western Railway. Oh great more strikes are imminent. Our railways are becoming a shambles because of foreign rail operators who have taken over the entire railway network in the UK. Are most likely to go on strike. Whilst other countries seem to have the best punctual railway system such as Netherlands, Japan, Germany, France and few other countries that have got the best reliable railways. And our railways in the UK is falling apart.
[There is not the faintest hint of an industrial dispute at Transport for Wales Rail. Second, 'foreign rail operators who have taken over the entire railway' is wrong. British franchise owners include Stagecoach, FirstGroup, Virgin and Go-Ahead. Do not believe all the tabloid rubbish about foreign railways and their high standards either. Some bits are good, some not so good. Just like us. Not every SNCF train is a TGV. Dutch and German trains do not always run on time. Italian railways seem covered in graffiti, and Belgian suburban trains are no better. Several administrations are deeply in debt.-- Editor]

It is very rare to see a franchise change hands without the incoming franchisee facing a legacy problem. In the case of TfW until it's ambitious rolling stock plans come to fruition it has to soldier on with the inherited fleet. Clearly Autumn has been more challenging than previous years depleting availability in an already stretched and ageing fleet. For 15 years Arrival operated the franchise in the straitjacket. Investment in rolling stock was limited & both Arriva & the Roscos were not incentivised to ensure up to date wheel slip protection was fitted to all legacy fleets. Not do franchise contracts incentivise TOCs to hire alternative rolling stock to cover availability shortfalls.

TfW never promised delivery of it's ambitious plans was going to be easy though I doubt they anticipated such a difficult start. Let it be recalled that unlike Scotland where rail policy has been devolved for many years only now has the Welsh Assembly Govt gained devolved powers to shape and manage the rail franchise. Until now the DfT has maintained a tight grip over policy and investment. The truncation of the GW electrification to Cardiff and the delay to the Valley lines electrification project are a legacy of that.



All trains on the Wrexham to Bidston line have been replaced by buses, meaning journey times are effectively doubled. I'm also told that these trains are being used on south Wales lines instead.

Is it terribly naive of me to ask why replacement trains could not have been hired for a temporary period? It's not as though TfW weren't aware of the situation well in advance.