Posted 8th October 2018 | 3 Comments
'Economic renewal' promised in Welsh rail plans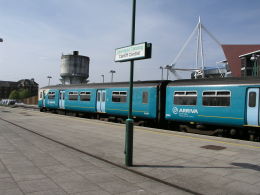 AMBITIOUS plans to improve Welsh railways with a total investment of almost £5 billion will help to trigger an economic renewal, according to the country's transport minister.

Arriva Trains Wales will bow out as the national operator after the last trains run on Saturday night, when Transport for Wales will take over as the lead manager, with contractor KeolisAmey providing the services and employing the staff.

One of the first obvious changes will be a widespread rebranding as Transport for Wales Rail Services to emphasise the start of the new era, while new trains are already being built or are on order. A £738 million South Wales Metro will form a major part of the upgraded service

Transport secretary Ken Skates said: 'Our plans go beyond a traditional transport project – they have to become the spark for wider economic renewal. They have to help individuals, businesses and communities who need a reliable, integrated transport system to help them find a new job, support their business to expand, and bring new investment to their town.

'The Metro project is not only about dealing with today's transport problems, but how we provide opportunities for the future —and not just in transport terms, but the impact that the Metro infrastructure will have on economic possibilities for people throughout south Wales.'

The changes will take several years, but include £800 million-worth of new trains, an extra 600 jobs and 30 new apprenticeships each year, as well as smart ticketing.

Metro routes in South Wales will be electrically operated, while some battery hybrids are being delivered from Vivarail, which is converting former London Underground cars.

From December 2022 there will be a 28 per cent increase in Sunday mileage.

Speaking at the 'Metro and Me' conference for business leaders today (8 October), finance secretary Mark Drakeford told delegates: 'Our plans go beyond a traditional transport project. The Metro will increase social mobility and widen access, connecting people and communities to employment opportunities, and education, health and leisure facilities.'
Reader Comments:
Views expressed in submitted comments are that of the author, and not necessarily shared by Railnews.
This is an economic revival only for Cardiff and South East Wales. How come the Welsh Labour Government has found money for the vast electrification in the Valleys and Cardiff from the Assembly budget as well as money from Europe but nothing for Swansea?

No improvements will occur to South West Wales until 2022 with only a promise of first class carriages on the Milford Haven to Manchester service (useless to the vast majority of the population in South West Wales). There has been no mention of any new services for Swansea in the new Wesh franchise.

It seems that at a time that the Conservative government in London has cancelled the electrification west of Cardiff, that the Labour government prefers to only spend money on electrification in the Cardiff area only,

As such no political party has any interest in Swansea. If the Labour government had any real interest in Swansea it would have procured the last of the EU money for part of the electrification to Swansea.

There is a clear emphasis that the South Wales Metro stops just west of Cardiff. Looking at the map of the Metro and the political interest in any South West Wales rail investment, it would appear that Swansea might as well be in a different overseas country and is not part of Wales.

There appears to be no interest in any economic revival in Swansea based on Mr. Skates' plan for the Wales Rail franchise.


Guess it's farewell to Arriva Trains Wales as they took over in September 2004 and provided good services across Wales. Thanks ATW. I hope the new franchise Transport for Wales (KeliosAmey Wales) can provide more better services and with new trains on order that will help boost the local economy in Wales. Aswell refurbishing the existing trains including the Class 175 that one of the Class 175 trains have been refurbished and with a new livery that will see more existing trains to be refurbished and to have a new livery and improvements to the rolling stocks that operates all railway lines in Wales.