Posted 18th July 2018 | 4 Comments
'Stark' lack of Welsh rail investment revealed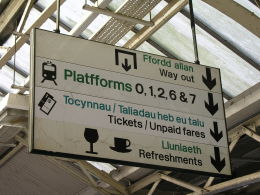 THE amount of money being invested in the Welsh rail network is proportionately much lower than elsewhere in Britain and the result is poorer services, according to economy and transport secretary Ken Skates.
He told AMs that the country is being denied economic benefits because 'Wales has not received an equitable share of UK rail investment over a sustained period and as a result has been denied the economic benefits enjoyed elsewhere'.
In May Professor Mark Barry, professor of practice in connectivity at Cardiff University, was appointed to lead the development of the case for investment.
Mr Skates, who described Professor Barry's findings as 'stark', said the results of low investment included slow main line speeds in South Wales, capacity and speed restraints in North Wales, infrequent commuter services in the Swansea Bay area and inadequate cross-border services.
He continued: "I continue to support HS2, and call once again on the UK Government to make the right choices for the Crewe Hub and for service patterns to be designed to benefit north Wales. I also continue to exert pressure on the UK Government to mitigate the probable impact of HS2 on South Wales to ensure that the region and its economy continues to remain competitive.
"The work undertaken by Professor Barry to date has identified direct user benefits for of at least £2 billion. These benefits are generated by reducing journey times, with significant benefits to business users. Additional benefits also arise from reduced road congestion, environmental benefits, and safety improvements through reductions in car use.
"The House of Commons Transport Committee has recently concluded that the Department for Transport's current decision-making processes and existing systems for scheme appraisal currently work against regions outside the south-east as they are weighted heavily towards the reduction of existing congestion."
Mr Skates also revealed that his aims when planning cross-border services are not the same as those of the Department for Transport in London.
He added: "There is now an overwhelming case for applying the model developed for procuring and managing cross-border services under the next Wales and Borders franchise to the procurement and management of other services between Wales and locations in England. This would involve re-mapping all services operating into Wales to a franchise procured and managed by the Welsh Government.
"The secretary of state for transport has made it clear though that he does not share this view – he believes that these are UK services to be operated on a UK basis. If that is to be the case, then the responsibility for realising this vital ambition lies solely with the secretary of state. The UK Government needs to set out a clear, fully funded action plan showing how it will correct the decades of underinvestment in infrastructure and rail services in Wales."
The Wales & Borders franchise is currently in a state of transition. The contract, which was won by KeolisAmey, started in June. However, train services will continue to be operated by Arriva until 14 October.
Reader Comments:
Views expressed in submitted comments are that of the author, and not necessarily shared by Railnews.
Maybe there would be more to invest in the railways if the WAG weren't about to p!ss away £4bn on the M4 bypass.

North Wales has had no significant rail investment for decades... I don't even know the last time, and passenger services at most stations really don't differ much from the steam days. Heavy industries on Deeside Park have repeatedly called for a new Shotton chord that would link the industrial park to the North Wales coast line and then enable them to increase freight movements, and I remember county councillors giving this the 'green light' eighteen years ago. But where is this chord? It seems no one wants to pay, despite there having been several major road schemes since then and nothing but traffic chaos in the area. Of course, if the Dee Marsh to Mickle Trafford line had been kept open, a route that had plenty of traffic in its day, then there would be no such problems for freight users now. And why did it take until only a few months ago to come up with the idea of building a new railway station at Deeside Park, a place that employs many thousands of people?

I would say that there are one or two lines (at least) closed during the 1960s that should be reopened - but mention crazy things like that these days and people look at you like you've suggested building a house on the moon. Try getting the train to Chester from my lowly town of Buckley and it'll take at least an hour, a ten mile journey that rarely takes more than twenty minutes by car, and that's just a single example of poor connectivity in this region.

And as far as I'm aware, the only rail freight using the North wales coast line at present is flask traffic from Anglesey - a rather poor show indeed.

The Welsh Government has had close on 20 years to address this issue through making choices about its own budget but has chosen not to prioritizing road schemes instead. I'm afraid this is largely posturing from Mr Skates shouting for more £ from Westminster as the answer to everything.