Posted 15th January 2018 | 4 Comments
Carillion liquidation raises questions over HS2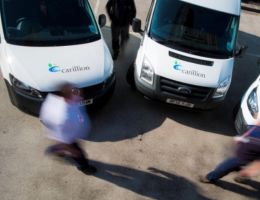 THE construction company Carillion has gone into liquidation, after months of financial uncertainty and plummeting share values. The move has put 20,000 British jobs and another 23,000 overseas at risk. It raises questions over the future of hundreds of projects, including work on Phase 1 of HS2. The company is also the second largest supplier of maintenance services to Network Rail.
The move came after last-minute rescue talks failed.
The government has appealed to employees to report for work today as usual. Cabinet Office minister David Lidington said: "All employees should keep coming to work, you will continue to get paid. Staff that are engaged on public sector contracts still have important work to do."
Carillion chairman Philip Green said it was a 'very sad day'.
Staff pension funds will now be managed and protected by the Pension Protection Fund.
The RMT has dubbed the development 'disastrous. The union is calling for urgent meetings with Network Rail and train companies today 'with the objective of protecting our members jobs and pensions'.
Questions are being asked why the government continued to award contracts to the firm, in spite of repeated profit warnings and growing concern in the City during 2017.
RMT general secretary Mick Cash said: "This is disastrous news for the workforce and disastrous news for transport and public services in Britain and RMT has been warning since Thursday night that we thought the collapse of the company was imminent.
"The blame for this lies squarely with the Government who are obsessed with out sourcing key works to these high risk, private enterprises."
Mr Cash added: "RMT members at Carillion provide a wide range of services on the railways from safety critical renewals and infrastructure work to train care and support facilities. RMT is meeting with Network Rail today and we will be demanding guarantees and assurances on the jobs and pensions of our members with the work taken in house as a matter of urgency."
Reader Comments:
Views expressed in submitted comments are that of the author, and not necessarily shared by Railnews.
Mick Cash - "The blame for this lies squarely with the Government who are obsessed with out sourcing key works to these high risk, private enterprises."

Well, actually, no. The blame for this lies with the Directors of Carillion for running the company in a way that is unsustainable, basically running on too thin margins with no spare cash in the business.

'Puts HS2 in doubt' lets hope eh! could be the first nail in the coffin for this railway vanity project costing billions

I understand that Carillion is in partnership with Abrellio for the Welsh Rail franchise and South Wales Metro. What happens now Carillion is bust?
[It is true that Carillion was a 'contracting partner' with Abellio Rail Cymru. The detailed implications are not yet known, but presumably Abellio might have to find a new partner?--Editor.]