Posted 24th March 2016 | 4 Comments
Network Rail seeks funders for Welsh rail upgrades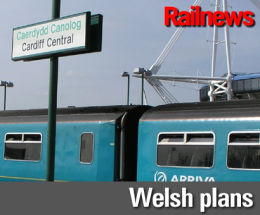 NETWORK RAIL has unveiled detailed proposals to meet future growth in demand for rail services in Wales and the borders.
The Welsh Route Study, published today, envisages more services on many passenger routes, with improvements in the Valleys designed to complement existing proposals by the Welsh Government for a multi-modal South Wales Metro, which could include light rail and busways as well as conventional railways. But some hard choices about funding may also lie ahead, because Network Rail is unlikely to find much of the investment which will be needed from its own resources.
Demand in the Cardiff area is expected to continue growing significantly over the next 30 years, and the number of journeys to and from Cardiff Central is forecast to grow from 13 million now to 33 million by 2043.
Apart from a major redevelopment of Cardiff Central to cope with this growth, Network Rail has also set out plans to modernise routes in North Wales, as well as improving rail links in the rest of the Principality.
The improvements will depend on external financing, and Network Rail sets out its proposals in a list of 'Choices for Funders'. Apart from Valley Lines upgrades, this list includes upgrading the relief lines east of Cardiff on the approaches to the Severn Tunnel, which is itself set to be electrified with overhead conductor rails this autumn. Other improvements include faster journeys between Wrexham and Bidston, more services on the Cambrian and Heart of Wales lines, accompanied by some linespeed improvements, as well as more trains to Ebbw Vale and the long called-for connection from that branch to Newport. The programme of level crossing closures will also continue.
Network Rail said its study 'sets out the rail industry's plan to meet future demand and the choices that exist for governments, and other funders of the railway, to invest in building a better railway for Wales: providing more seats, allowing for more freight, and delivering better connectivity with faster and more frequent services'.
Tim James, head of strategy and planning for Network Rail Wales, said: "The railway is a great Welsh success story. Passenger journeys have increased by almost 50 per cent over the last decade and continue to grow, the rail freight industry is developing new markets and adapting to economic change and new lines and stations have opened for the first time in generations.
"This is an exciting time for the railway, with improvements being delivered across the network, but additional investment is required to meet future passenger and freight demand.
"This Route Study provides clear options for Wales' rail future – setting out the key choices facing funders, including a major redevelopment of Cardiff Central station, the modernisation of the railway across North Wales and improved rail links throughout Wales and the borders."
Today's document follows an extensive consultation which was launched after a draft version of the study was published a year ago. Network Rail has provided some initial costs and business cases to guide possible funders, whose contributions will be essential if many of the schemes are to go ahead.
Reader Comments:
Views expressed in submitted comments are that of the author, and not necessarily shared by Railnews.
Hopefully the current consultation being undertaken by the Welsh Assembly Govt into the future shape of the next franchise will complement the work undertaken by NR in developing infrastructure capacity.

The current franchise having been let on a no growth basis underestimated the latent market opportunity for rail in Wales. For example from North Wales rail has a poor presence in the not inconsiderable commuter market into Liverpool & Manchester. Current service frequency and timings compare badly with motoring and have probably deteriorated from the steam era.

It is heartening that NR is proposing improvements to Cinderella routes such as Wrexham-Bidston & Heart of Wales but these lines have been subject to managed neglect for years. As with the South West Wales branches these routes have a marginal impact on the travel plans of the communities they traverse. There is considerable latent travel demand for rail to address but this will require a fresh approach to timing, frequency and quality for rail to gain market share.

Why is there no money for projects in Wales? Why are the WAG funding things like the Ebbw Vale Town extension?
These improvements should be centrally funded by the government as currently transport spending isn't devolved.


All very well, if it happens, but what about the much trumpeted electrification!!!! Delay, delay, delay!!