Posted 14th May 2018 | 3 Comments
Talks set to take place over new Heathrow line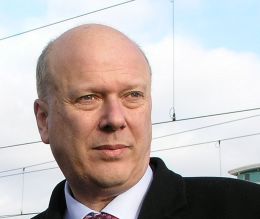 Transport secretary Chris Grayling has already said that he wants to see more private sector capital being invested in the rail industry
TALKS are set to take place today between the Department for Transport and several bidders who are interested in building a new railway to Heathrow Airport.
The individual schemes vary. One involves connecting the two existing lines at Windsor, and another favours light rail.
Whichever route is chosen would provide rail access to the airport from the south. Transport secretary Chris Grayling has already said that he wants to see more private sector capital being invested in the rail industry, and both the southern Heathrow line and East West Rail are prime candidates.
The Daily Telegraph reports that five bidders are involved in the Heathrow scheme, and that they include MTR alongside Heathrow Southern Railway, the Windsor Link Railway and Interlinking Transit Solutions, which prefers light rail.
The name of the fifth bidder is not yet known. Further potential bidders could yet appear, because they have until July to make themselves known.
Reader Comments:
Views expressed in submitted comments are that of the author, and not necessarily shared by Railnews.
This seems like an attempt to resurrect "Airlink". That was a failed attempt to connect Waterloo with Heathrow using thje Windsor lines through Twickenham and/or Hounslow.
Those lines are at capacity at the moment which means any other new services would have to be at the expense of present commuter services. That sounds like a very big objection from the affected. The problems lie in the large number of level crossings along the route which cannot be closed for longer periods per hour. If they were closed permanently then the capacity of the lines could be greatly increased which would serve both commuters and airport users well.
Since the government is most unlikely to solve that difficult expensive logistical problem I see this "new Airlink" to be a non-starter.

I was handed a survey form at Slough last Thursday by Great Western asking for opinions on their new line from Langley to Heathrow. Reading through it I got the impression that it was all 'done and dusted' and they were at the point of starting. I gather now from this article that this is not the case.
[Not entirely. The subject of our report concerns access from the south, although one of the schemes also involves the Windsor lines. I think GWR may be talking about the separate proposed Western Rail Link. This includes a new west-facing junction which would allow trains from the Reading direction to turn right on a flyover between Langley and Iver and go to Heathrow. For more, see www.networkrail.co.uk/our-railway-upgrade-plan/key-projects/heathrow-rail-link/. --Editor.]