Posted 1st May 2018 | 1 Comment
Council to probe why station opening was delayed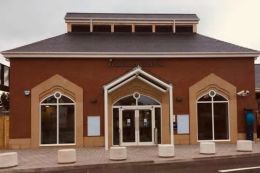 KENILWORTH station in Warwickshire has reopened for business.
There had been a long campaign for the station to be restored, but even after the project was approved the opening date slipped repeatedly amid a war of words between the various parties involved, who included Warwickshire County Council.
Trains between Coventry and Leamington Spa are now stopping once an hour at the single platform, Monday to Saturday. The inaugural train to Coventry departed at 06.16 on the last day of April.
The town, between Coventry and Leamington Spa, lost its original station in January 1965.
Francis Thomas of West Midlands Trains said the launch had created 'a real buzz'.
Sandra Cousins had caught the last train in 1965, and made sure she turned up in good time to see the start of the new era. She said: "I was so excited when I moved back to Kenilworth seven years ago and heard that the station was reopening. I'm so excited to be on the first train."
Warwickshire County Council said it will examine why the opening date has slipped back almost two years
The cost of the project has also risen from £11.3 million to almost £13.6 million. This increase has been attributed in part to the delayed opening, which inflated project management and consultation costs. Another risk analysis was also needed.
The council's joint managing director Monica Fogarty said there were 'big lessons to be learned' from the delays.
She continued: "Now that the station has opened, it is time to celebrate the completion of a very complex project and for the town of Kenilworth to celebrate that once again it has got a rail station. This will provide a real boon for the local economy, bringing visitors to the town and also giving Kenilworth residents the opportunity to travel across Warwickshire without having to get in the car.
"My heartfelt thanks go to all the people of Kenilworth who have shown such patience while the work was being carried out. I am delighted to have seen so many people here this morning and to see and hear what it means to them."
The station has been funded by the Government's Local Growth Fund through Coventry and Warwickshire Local Enterprise Partnership, Warwickshire County Council, and the Department for Transport's New Stations Fund, which contributed £4.9 million. It is part of a wider scheme to improve the railway between Nuneaton, Coventry and Leamington Spa, which has already included new stations at Bermuda Park and Coventry Arena, for the Ricoh Stadium.
Reader Comments:
Views expressed in submitted comments are that of the author, and not necessarily shared by Railnews.