Posted 3rd June 2013 | 9 Comments
Kenilworth station plan almost a 'done deal'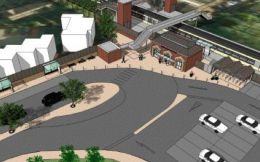 THE transport secretary Patrick McLoughlin has confirmed that he is 'minded' to help fund an £11.3 million plan for a station at Kenilworth, in Warwickshire – one of England's largest towns still without a station – with a contribution of up to £5 million. But a new station is not likely to open before December 2016 at the earliest.
The project will depend on Network Rail's ability to integrate Warwickshire County Council's plans for the new station with extensive improvements, including greater capacity and electrification planned for the Leamington Spa-Coventry route between 2014 and 2019, the DfT said.
The line between Leamington and Kenilworth was reduced to single track after the town's previous station closed in 1965.
But last year the route was designated as part of the 'electric spine', between the West Coast Main Line at Nuneaton and Southampton, to carry longer freight trains and to enable the Reading-Newcastle CrossCountry service to be diverted via Coventry and Birmingham International.
On a visit to Kenilworth on 3 June with local MP Jeremy Wright – now a Justice Minister, but who worked previously in the Whips' Office when Patrick McLoughlin was Conservative Chief Whip – the Transport Secretary explained: "Late 2016 is the quickest we could see the station built, given its involvement with the wider electrification programme."
He added that there was a limit on what he could say about how the project would progress as "we have to hope that the Office of Rail Regulation will give approval to Network Rail's plans for 2014-19".
But Mr McLoughlin added: "It's very close to being a done deal – otherwise I wouldn't be making this statement in Kenilworth today."
Asked which train operator would serve the station – and reminded that CrossCountry had said it did not wish to stop trains at Kenilworth - Mr McLoughlin said: "That is one of the questions we need to address."
Asked by Railnews if a new service at Kenilworth might be part of re-negotiating the London Midland franchise extension to 2017, the Transport Secretary said: "I couldn't possible declare my hand."
If the £5 million grant goes ahead, the Department for Transport said it would be the largest single allocation so far from the New Stations Fund, which has recently been used to make contributions of varying amounts to four other new station projects in England and Wales amounting to £19 million.
The original fund, which is administered by Network Rail, was set at £20 million but the Transport Secretary insisted that there was no extra budget, even though the Kenilworth scheme could involve a £5 million contribution.
The DfT said Kenilworth station would provide two 100m platforms, long enough for four-car trains and with passive provision for these to be lengthened in the future.
"Because extensive infrastructure improvements are planned on this line in the near future, Network Rail is continuing to investigate how the scheme can be integrated into its wider programme," said the DfT.
• On his way to and from making his station announcement at the council offices in Kenilworth, the Transport Secretary had to face a small band of anti-HS2 protestors, led by Stop HS2 leader Joe Rukin. Mr McLoughlin denied that he was backing a new Kenilworth station because of the local opposition to HS2.
Reader Comments:
Views expressed in submitted comments are that of the author, and not necessarily shared by Railnews.
It's always puzzled me why the Nuneaton-Coventry train can't cross the line at Coventry and become a Nuneaton-Leamington Spa service, including a stop at Kenilworth. It seems to be preferable to have it sit at Coventry for a while then go back North against the flow instead of having it stop briefly then cross the line to go further south. I gather there are plans to create a bay platform for it now - Obviously still preferable than having it cross the line.

Mind you, most people we spoke to when out campaigning were interested in services to Birmingham or London. In my opinion not having a direct service isn't really a problem when these destinations are both available within one change, whichever direction you leave town. The most important thing is that you can access the rail network from your home town.

That the Transport Secretary was "minded to fund" the station was as good as we could really expect because the infrastructure upgrade and the station have up until now been separate projects. There's obviously a lot of work to be done to co-ordinate the two, but even though this isn't a water tight commitment to build a station at Kenilworth the fact is it will be difficult to rein back from Monday's announcement,

In any case, Warwickshire County Council seem to be expecting to start construction in May 2015 - See the Warwickshire's 'WCC News'. Funnily enough I have a feeling there's supposed to be an election sometime around then as well. ;o)

I'm happy to provide further details if anyone's interested.

Graham Hyde
ASK A Station for Kenilworth
graham .at. kenilworthstation.org.uk

A single new station doesn't cost £11.3 million. That's the cost of this particular station which includes, for example, track and signal infrastructure changes at Leamington Spa to enable trains from Coventry to use platform 4. I don't think I'm allowed to post links here but if you search for 'kenilworth station wordpress' on Google (other search engines are also available) the first link you find will lead you to a copy of the NSF Funding Application. It's slightly redacted but hopefully still informative enough. Feel free to e-mail me if you need any further information.
Graham Hyde
ASK - A Station for Kenilworth
graham .at. kenilworthstation.org.uk

Claydon William, East Midlands Parkway station cost £25.5m.

How on earth does a single new station cost £11.3M ?

There really ought to be a public 'competition' open to young engineers to try a build a new station for under £1M, using re-cycled materials.

Having just been to look at East Midlands Parkway, it seems to be constructed from little more than cheap plastic, glass and steel.

It really ought to be possible to design and build new stations much, much cheaper using cheap, flexible, modular pre-cast recycleables.

Windsorian, UK. I've had a better look at this plan now, and I've already got some misgivings.

The current business case is based on an hourly service between Leamington and Coventry. I can't speak for prospective Kenilworth passengers, but I would have thought most of them would be expecting a direct service to Birmingham.

Unfortunately, there is currently no obvious way of getting a Kenilworth-Birmingham service. The Coventry-Birmingham section is busy and an extra train path would be tricky. A much easier solution would be to extend some services currently terminating at Coventry to go the Kenilworth/Leamington. Unfortunately, there aren't any. Cross Country do not want to stop trains at Kenilworth. You could potentially force them into it by making it a condition of the 2016-2019 franchise extension, but there's also problem about extending journey times for everyone else, and causes problems over 8-car trains.

Coincidentally, this might become more feasible with HS2, because the current proposed post-HS2 service patterns happen to include trains that terminate at Coventry. They would be much easier to extend to Kenilworth. In fact, StopHS2 told me this morning that they now understood how HS2 will in fact enhance rather than cut local services, and they'd now all had a change of heart. Then I woke up.

At present there appears to be a hourly service from Manchester to Reading via Coventry and Leaminton Spa; also a hourly service from Newcastle to Reading avoiding Coventry but stopping at Leamington Spa. If the Newcastle trains are re-routed via Coventry, there would then be 2tph in each direction.

In NUCKLE Phase 1 (Nuneaton / Coventry) it is proposed to have a 2tph service. The question is whether Phase 2 (Coventry / Leamington Spa) will also require a 2tph (in each direction) service; also whether it should extended from Leamington Spa to Warwick Parkway (on A46 not far from M40).

Also we need to know the proposed freight train frequency (in both directions) along the Leamington Spa / Kenilworth / Coventry section of track.

Finally there is the question of long term resilience along this section of track and in particular whether to 400 yard section of permanent single line track in the area of Gibbet Hill should be doubled.

Mr McLoughlin should have told Anti HS2 protesters that the new station at Kenilworth and line improvements are to prepare for the coming of HS2 and the opportunities it will bring to many communities in England !

(Thank you everyone who is expressing a view of this story. Some reports have been published about this announcement which use the words 'pledge' and 'guarantee'. This is misleading. Our reports that the Secretary of State is 'minded' to approve the project (and contribute up to £5 million) are correct.—Editor.)

If the announcement of Kenilworth station is conected to HS2, so what? One of the weaknesses of HS2 (compared to HS1) is that it is of very limited benefit to people who live alongside the line. Whilst people on the WCML do benefit from HS2 by getting more local services (and potentially those along the Chiltern Line too if it turns out that stopping services will have to go the same way as WCML stopping services without HS2), they're not the people who are closest to the line.

If the people of Kenilworth can't benefit from HS2 that much (the improved journey options from Coventry post-HS2 aren't that spectacular), it's only fair that they should benefit from some other improvement instead. I really don't see why that should be a problem, and protesting over this seems to be cutting off your nose to spite your face. Unless of course the real gripe is that the government keeps defying StopHS2's claims on which scheme won't go ahead because of HS2, and you had no intention of using a station at Kenilworth anyway. In which case it makes perfect sense to complain.