Posted 23rd October 2017 | 2 Comments
Intercity Expresses return to service on GWR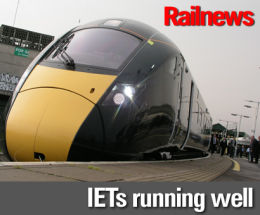 THE new Hitachi Intercity Expresses withdrawn from public service last week after faults on the launch day are back on track and running well, said Great Western Railway.
The company withdrew four 5-car Class 800 sets, which are running in pairs, after Wednesday night. Upgrades to software were carried out overnight, and the units concerned then ran under test on Thursday before being restored to their planned diagrams in passenger service without publicity on Friday morning.
A spokesman for GWR said the software issue had affected the air conditioning and some other on-board services, including information screens.
Another failure, which concerned a pantograph air valve and therefore the ability of the launch train from Bristol to switch from diesel to electric operation when passing Maidenhead, is said to have been caused by a one-off issue, according to insiders.
GWR is not commenting on the details of the air valve problem, but did say that all subsequent changeovers of traction mode have worked properly.
At the moment only 5-car sets are in service, and GWR has yet to reveal when 9-car sets can join them.
Longer term plans for GWR involve the withdrawal of most HSTs although short four-car HST sets, codenamed 'Castle', are being refurbished by Wabtec in Doncaster and will be used on the corridor between Cardiff Central, Bristol Temple Meads, Plymouth and Penzance. The Mk3 trailers in these sets will be standard class only, and are being retrofitted with automatic doors and controlled emission toilets.
The far south west is also due to welcome its version of the Intercity Expresses, the bi mode Class 802s, by mid-2018. They have more powerful engines and larger fuel tanks to cope with the long stretches of non-electrified track west of Newbury.
Reader Comments:
Views expressed in submitted comments are that of the author, and not necessarily shared by Railnews.
Once the line is electrified through Swindon, there's the small matter of Steventon Bridge where there will be a gap in the overhead because of local objections to rebuilding the bridge. What if the air valve malfunctions at speed and the pantograph stays in the raised position - goodbye bridge?
[Goodbye pantograph, perhaps -- but also see letter from Mr Wells.--Editor.]