Posted 20th October 2017 | 6 Comments
GWR withdraws new IE trains for upgrade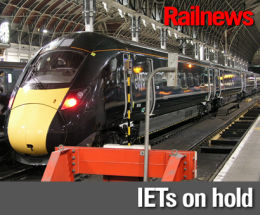 NEW Intercity Express trains which entered service on GWR at the start of this week have been withdrawn for upgrades to software and related modifications.
The first service from Bristol Temple Meads, with the transport secretary among its passengers, was due to depart at 06.00 on Monday morning. It left late because of a technical problem and then encountered more difficulties during the journey to London.
An air conditioning fault caused water to drip on to the seats in one coach, while another fault caused the air valve which moves the pantograph to fail when the driver attempted to change the traction mode from diesel to electricity at Maidenhead. The train came to a stand at Twyford and was delayed by a further 10 minutes while on-board systems were rebooted. It then continued to Paddington on diesel power, arriving 41 minutes behind time.
The train had also been due to work the 08.15 to Cardiff Central, but this service had to be cancelled because the faulty sets were taken instead to Old Oak Common depot.
Meanwhile a second service, also formed of two 5-car Class 800 sets, had left Paddington on time at 07.00 and ran to Bristol without any technical delays. Later in the day an Intercity Express carried passengers to Swansea for the first time.
Hitachi has apologised for the launch day problems, saying 'we must do better'.

A GWR spokesman said: "We hope to have them back in passenger service as soon as possible."
Reader Comments:
Views expressed in submitted comments are that of the author, and not necessarily shared by Railnews.
I'm not too familiar with Hybrid powered trains. Do any other countries railways operate electric/diesel hybrids?
[Yes, but usually for unusual or 'niche' routes.--Editor.]

The question not asked nor answered is: Why did these faults only come to light on the introduction into service; should they not have become apparent as part of the product and acceptance testing?

[No one is happy about it (and I am sure your question has been asked in private), but on the same day Daimler announced the recall of 400,000 Mercedes-Benz cars in Britain (reportedly part of more than a million worldwide) because of a rare but possible air bag fault. Should that not have become apparent as part of the product and acceptance testing? -- Editor.]

So problem arose when changing from diesel to electric something these trains have to do far more times per journey thanks to Chris Grayling brilliant idea of " discontinuous electrification!" .

I suppose they were lucky that the Duke and Duchess of Cambridge and Prince Harry were not invited to join this train as part of the Paddington Bear event at Paddington Station which they attended was held on the same day !

Reminds me of the ill-fated Press Preview run of the APT (Advanced Passenger Train) which were withdrawn after its disastrous run in December 1981.

No standby train; because that would have only happened with pre-1993 British Rail.