Posted 7th February 2018 | 2 Comments
Network Rail plans are on track even though Carne is going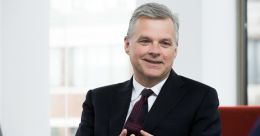 THE departure of Mark Carne from Network Rail will not derail its next five-year plan, said Network Rail, which has undertaken to deliver its Strategic Plan for CP6 to the Office of Rail and Road on time.
The detailed proposals are due to be handed to the ORR on Friday, but the chief executive who has played a key role in setting out Network Rail's proposals for Control Period 6 between 2019 and 2024 will not be there to see them carried out.
Mark Carne took over shortly before the start of CP5 in early 2014 as the successor to David Higgins, who moved on to take charge at HS2 Ltd.
CP5 has had mixed fortunes. Although several major projects such as London Bridge and Birmingham New Street have been completed successfully, NR has continued to battle to meet performance targets, while several electrification schemes have been cancelled or cut back after it became clear that the early estimates of costs were wide of the mark.
Network Rail also endured a fundamental change to its structure, when it ceased to be a 'not for dividend' company and became a government body in September 2014. The change was originally shrugged off as little more than a detail, but it became clear that its new status was far more significant because NR could no longer borrow money on the open commercial market, which affected its ability to invest in new projects.
Network Rail chairman Sir Peter Hendy is one of several leading industry figures who have paid tribute to Mark Carne's stewardship.
Sir Peter said: "Mark has done an outstanding job and I want to applaud him for what he has achieved in his time at Network Rail. His leadership steadied the ship during the challenging transition to a public sector organisation and he has been the architect behind the huge positive changes in the company, driving transformation, devolution and efficiency, with an emphasis on equality and diversity too. Three years ago he set out a strategic vision for a digital railway transformation which is now becoming a reality in our plans. Throughout this he has maintained a determined focus on delivering the biggest upgrades to the railway in a hundred years. Perhaps his biggest legacy, however, is the change in safety culture that he has very personally led.'
Rail Delivery Group chief executive Paul Plummer added: ""I would like to join many people across the industry in thanking Mark for his work embedding safety culture and the ongoing transformation of Network Rail and its delivery for customers. His work on devolution of routes and the establishment of an independent system set the foundations for strong local partnerships of the route with train operators and suppliers focused on the needs of end-customers while maintaining a seamless network. Over the next 18 months there will also be unprecedented improvements and investment in the railway, boosting communities and the economy, and Mark has played a crucial role in making this happen."
Mark Carne's focus on safety ("Everyone home safe every day") has also been praised by transport secretary Chris Grayling, who said: "He has provided very strong industry leadership on safety and digital rail, and Network Rail has significantly improved the railway for its customers under his direction. His focus on devolving power to Network Rail's route businesses has built the foundations for a more efficient and passenger-focused organisation which supports the Government's agenda to bring track and train closer together."
Mark Carne said: "Britain's railways matter to the lives of millions of people. The men and women who run the railway are enormously committed and it has been a privilege to lead the organisation at a time of huge investment and transformational change. I planned the timing of my announcement so there was stability while we developed the business plan for the next five year regulatory period, but so that there will also enough time for my successor to be firmly in place when it starts. I will leave knowing that the railway is in good hands and has a great plan for the future."
Network Rail said recruitment of its next chief executive would begin shortly, led by chairman Sir Peter Hendy.
Reader Comments:
Views expressed in submitted comments are that of the author, and not necessarily shared by Railnews.
Why do people persist in believing that managing directors of huge companies like Network Rail actually make decisions? In reality they may have a few ideas that gradually cascade downwards from their desk to the desks of directors and senior managers, but in reality, the real work takes place at middle manger and below levels.

"Oh no it doesn't", I hear you cry, "these people are really important". Er. yes, they are important figure heads, but in reality, real change does not happen. I know, I work within a large transport organization that has been messed about with years, but guess what? it never changes at my level, as a middle manager. I still do what I have always done, I expect my team to do what they always do. Yes size changes, but we always do the same thing.