Posted 14th February 2014 | 2 Comments
Bad weather prompts early start for Mark Carne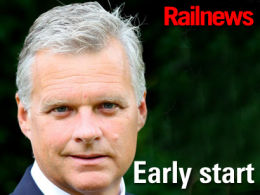 NEW Network Rail chief executive Mark Carne will take over from David Higgins on 24 February, the company has announced.
Mr Carne was not originally set to take the reins until the end of March, but his start date was then advanced to the beginning of the month. This further change will allow his predecessor David Higgins to concentrate on his new responsibilities as executive chairman of HS2 Ltd, where one of his first tasks is to provide an interim review of progress for the transport secretary. His report will assess how costs can be reduced and the construction timescale shortened, as well as examining the possibility of starting construction earlier in the north of England.
Mark Carne joined Network Rail as chief executive designate on 6 January. Since then he has been touring the railway system to see major projects for himself and meet as many staff, funders and customers as possible.
He has also seen at first hand the impact on the network and its passengers of the recent extreme weather, including several trips to the damaged sea wall at Dawlish, where the through route to Plymouth and Cornwall may not be restored until April.
Network Rail chairman Richard Parry-Jones said: "With so much going on at the moment and the atrocious weather affecting our customers and testing the resilience of both our people and the network, Mark, David and I have discussed the matter and thought it best Mark get his feet under the table sooner rather than later.
"We have clear priorities; safely restoring services to normal, making our network more resilient and wisely spending and investing our £38 billion funding package to make Britain's railways better. We need to get going on this next chapter of our journey."
Meanwhile, weather-related disruption is continuing to affect the network today, as another storm sweeps in from the Atlantic. Flooding at Maidenhead is restricting Great Western Main Line services, and the Staines to Windsor branch remains closed. Buses are replacing trains west of Shrewsbury because of problems at Dovey Junction, near Aberystwyth. Buses are also replacing trains between Lydney and Gloucester because of flooding on the line.
Landslips are continuing to disrupt services at Oxted as well as between Eastleigh and Fareham, and on the Tonbridge to Hastings line.
Reader Comments:
Views expressed in submitted comments are that of the author, and not necessarily shared by Railnews.
Feb the 24th? wow thats quick(should be working now) and someone please tell NotWorkFail that the more trees they cut down the more landslips will occur? im stuck in Leamington Spa as of 15/2/ due to a landslip!

News late on Friday night that the containers installed at Dawlish have become dislodged means further problems on this section of route are likely. Perhaps Eric Pickles might have held more securely!

These events are of course getting the Anti HS2 brigade trying to use these problems to cancel the project and yet while I only read the London paper version of the HS2 plans it is noticeable that much of the investment is actually going into changes and upgrades of existing lines, roads, bridges etc so renewing existing infrastructure costs that are part of total HS2 costs but not actually costs of HS2!

So cancel HS2 and you cancel these upgrades !

Of particular note is the sections of the GWR affected by flooding are in fact the route of Crossrail and so unless major upgrades are planned as part of Crossrail then in say 10 years time we could see large parts of Crossrail paralysed despite the billions spent on Crossrail and indeed GWR upgrade !

Perhaps network rail should speed up signal upgrade to reduce dependency on wiring that can flood?