Posted 9th July 2015 | 2 Comments
Carne lays down digital railway challenge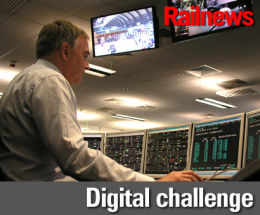 NETWORK RAIL chief executive Mark Carne has challenged his colleagues to see if the introduction of the 'digital railway' can be accelerated dramatically.
Under present plans for the introduction of the European Rail Traffic Management System, which dispenses with lineside signalling in favour of cab displays and provides full automatic train protection, the whole network will not be equipped until 2062.
Speaking at the Tomorrow's Rail conference in London, he said: "If it takes that long I will be 103. I have challenged my team to see if we can bring in ERTMS nationally by 2029. A continuous rollout rather than piecemeal development."
The new train regulation centres will be concentrated at just 12 sites around Britain, including two for Scotland, one at each end of the central belt, while Wales and the West of England will be controlled from new buildings in Cardiff and Didcot.
He told Railnews: "This speed-up is far from being a plan as yet. It's meant to be provocative -- a challenge."
He said that the recent revelations about project costs were the result of detailed work being carried out. "At the start of CP5 in April last year these major schemes were ideas, which we have now developed," he said.
After the extra costs were revealed last month, transport secretary Patrick McLoughlin 'paused' electrification of the North Transpennine route and Midland Main Line in favour of the Great Western Main Line, which is seen to be the priority.
London transport commissioner Sir Peter Hendy is moving to Network Rail as the new chairman, replacing Richard Parry-Jones, while Richard Brown has been appointed to the Network Rail board as a special director. He will report directly to the transport secretary.
Mr Carne remains optimistic. He told the audience at Tomorrow's Rail. "I went into the oil industry as a graduate 35 years ago, when railways were thought to be dying. Now I believe transport -- particularly railways -- offers the most exciting prospects to young engineers. I would choose railways now."
Reader Comments:
Views expressed in submitted comments are that of the author, and not necessarily shared by Railnews.
Mark Carne is mad. This five year plan with an unproven signalling system from somewhere in the depths of Europe sounds like something from the USSR.

[Far from unproven. ERTMS/ETCS is in use on a number of lines in Europe (including Shrewsbury-Aberystwyth/Pwllheli) and elsewhere in the world. It is also being tested on the Hertford Loop at the moment in preparation for its introduction on the East Coast Main Line and other routes.--Editor.]