Posted 14th November 2016 | 10 Comments
East West rail link details expected in New Year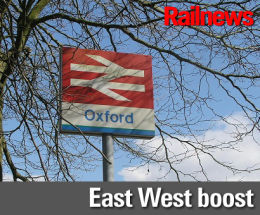 COUNCIL leaders have been reassured by a restated commitment to build East West Rail, in spite of concerns about Network Rail's budget and the possible impact of the Chancellor's Autumn Statement later this month. They are also hoping that details of an accelerated programme of construction will be published in the New Year.
Transport secretary Chris Grayling has told the national conference of county councils that the project is important and 'exactly the type of project that is needed to support our growth plans'.
His optimistic message has been greeted with relief by councils along the route between Oxford and Bedford.
Cllr Rodney Rose, who is deputy leader of Oxfordshire County Council and chairman of the Joint Delivery Board for the project's western section, said: "East West Rail is one of the top three rail investment projects in the UK. Compared to other projects, it is relatively low cost project that will provide an exceptional return on investment and benefits to the communities it will serve. When the Consortium handed its costed Prospectus across to Government in 2011 the scheme was forecast to give back £6 for every £1 spent, and have recouped its cost within five years of operating. It's also forecast to deliver wider economic benefit to the tune of £200 million per year.
"Last year Chiltern Railways started services from the new Oxford Parkway station to London Marylebone via Bicester Village. The service has been an extraordinary success and has already carried more than one million passengers. This service will start operating from and to Oxford city centre within a matter of weeks.
"It's vital that momentum is maintained and we build on this success to deliver the next phase of East West Rail, from Bicester to Bedford, and Milton Keynes to Aylesbury, so that train services can provide the much-needed connectivity between these key areas of economic activity and population. This is the critical next step in re-establishing the key strategic link between Oxford and Cambridge.
"There is overwhelming support from the public, the business community and investors. We need to crack on and get it built so we can realise the opportunities it presents to boost the economy, create new jobs, support housing growth and improve the quality of life of people in the region.
"Following a period of uncertainty over delays due to pressure on the national rail budget, we're optimistic that Government will now follow through on its commitment by making funds available for earliest possible completion. We continue to work closely with Department for Transport and Network Rail to make this happen. We look forward to having a clear, realistic and accelerated delivery programme by January."
The Chiltern Railways service from London Marylebone is set to be extended from Oxford Parkway to the city's main station next month.
Reader Comments:
Views expressed in submitted comments are that of the author, and not necessarily shared by Railnews.
News I heard on Sunday 20/11 that in the autumn statement there is going to be a new link road from Milton Keynes to Cambridge does this mean the E+W link is a non starter? Lets hope not.
[Indeed. However, there has been no suggestion that one scheme could be achieved only at the expense of the other.--Editor.]

I read this eagerly thinking an East-West link would be, say, Liverpool to Sheffield!! Bedford to Cambridge my ----!
[Well, er, that is the official title. Sorry if you are disappointed.--Editor.]

There may be further benefits for the East-West Rail Link if the Northampton-Olney-Bedford route was also re-opened, with faster direct links from the Midlands and Northampton to Cambridge and Anglia, alongside the traffic from Oxford and Milton Keynes. However, this would require the more expensive Bedford-Sandy alignment to be reintroduced, although having an additional service use the line would increase the benefit:cost ratio of such a link. It is clear that there is so much potential to be had with the new line, which makes it a shame that work had not already started on the link, with a view to opening at least the Oxford-Bedford section by 2019, but of course, most resources are likely to be tied up in the ill-fated electrification schemes up and down the country at the moment.

The route should be direct Bedford-ECML interchange (Sandy, St Neots or between them)-Cambridge. It'll be expensive but nothing to HS2 and much better value than the reopened Borders line. It opens a new regional and local rail corridor between Bedford and Cambridge, and avoids the peformance and reliability problems of mixing services with other lines, as would happen if the Royston line was used.

From the perspective of strategic / longer distance traffic potential, Claydon's suggestion re Lidlington - Royston is excellent, as far as I can discern. Of course Bedford would not get a direct ouutlet to the East, but a triangular jumction at Lidlington should ameliorate this.

I'm still not clear how they are going to plan around Bedford, and re-opening Sandy to Cambridge is going to be real expensive.

When they built the Hitchin flyover, they could have included links onto the ECML slow lines to Sandy; but; as usual; we couldn't see past the end of our noses when it comes to rail planning.

A must cheaper option now would be to draw an almost straight line between Lidlington and Royston (20.7 miles), rather than Bedford to Cambridge a (straight line 26.4 miles), with maybe a 'parkway' station where it crosses the A6 south of Bedford.

Using the current Cambridge-Royston line corridor, would also open up the interesting possibility of an Addenbrookes to Oxford service, and adopting this proposed Royston-Lidlington alignment also offers the possibility of much faster speeds and end to end timings.


Though I'm committed to electrifying all main lines eg East Midlands line, with the availability of bi model trains, perhaps these should be delayed a bit longer and funding diverted to new line projects such as this.

We keep being told by EWR of one committee / public meeting / governmental comment after another re this scheme - ii would be good to have some info from them. on actual physical progress on the ground.

I do hope the builders concerned will remember the Beeching notion that railways should concentrate on doing what they are best at , and build to cater first and foremost to suit the strategic , longer distance passenger and freight potential traffic.

For once, a word of praise for Network Rail. Well done for "future proofing" & allowing for redoubling between Aylesbury & Claydon Junction when they built Aylesbury Parkway Station.

Interesting at Quainton Road too. Given that there's a not only complete but restored station, will it actually regain a main line service?