Posted 12th July 2017 | 3 Comments
East West link announcement 'within days'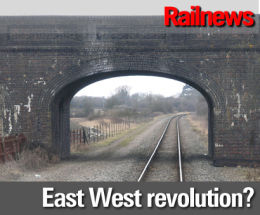 THE rebuilt East West Rail Link between Oxford, Bedford and Aylesbury could mark a fundamental change in railway policy by becoming the first part of National Rail to be vertically integrated since British Rail was abolished 20 years ago. Local consultations about the project have now restarted along the route, while a major announcement is expected from the transport secretary within the next few days.
Integration rejoins track and train, so that all parts of the operation are owned and run by the same organisation.
A European Directive issued in 1991 forbids full integration, with the aim of making infrastructure available to other operators, but in practice it simply means that there must be separate accounts and management for each function. Train operators then have an arm's length relationship with the infrastructure owner, who charges them to use the railway.
The principle was taken much further when British Rail was privatised between 1994 and 1997, with private sector Railtrack taking over the infrastructure and selling train paths to operators, both passenger and freight.
The imminence of Brexit could mean that European Directives will have ceased to apply in the UK by the time the East West Link is expected to open in 2022.
East West Rail will link Bedford and Milton Keynes with Oxford and London Marylebone via Aylesbury and Princes Risborough. It first appeared on the DfT franchise list last year.
There have been several false starts so far. Preliminary work on the route, such as vegetation clearance, has been punctuated by Government announcements conveying varying messages. The route was planned to be a core part of the 'electric spine' in plans published in 2012, but that vision has disintegrated since then as Network Rail's finances deteriorated.
What was thought to be the final round of consultation events took place in 2015 with the aim of finalising the design and allowing a TWA Application to be made by September 2016. This was stalled by the DfT who announced after the Network Rail funding crisis and EU exit vote that the line would be built and operated by a third-party organisation rather than Network Rail.
Even so, the latest round of consultations have been launched by Network Rail, and there is little evidence so far of a third-party organisation taking charge, but speaking to the consultation team, Railnews was told that the transport secretary is expected to make an announcement before Parliament rises for summer about the independent company who will build and operate the line.

This suggests that East West Rail might yet be the first truly vertically integrated railway in Britain since privatisation.
In the meantime, the project has been downgraded to be a non-electrified route, while Princes Risborough is now named as an additional station on the western section.
Construction could start next year, with trains running in 2022, unless external political factors divert funds and resources. The scheme has a benefit-costs ratio of more than 6, which is the largest of any rail reopening in Britain.
Reader Comments:
Views expressed in submitted comments are that of the author, and not necessarily shared by Railnews.
Another East West line that must surely be considered for reopening is Skipton to Colne. This would provide a much-needed TransPennine link for freight traffic, avoiding heavily congested routes through Manchester.

As noted so many false starts and clearly much descoping like the removal of electrification. While an integrated operation is to be welcomed it does appear to be a case of wanting to reinvent what was accepted rational railway organisation until the 1993 Railways Act created today's dysfunctional arrangement. It's still too much for our political leaders to admit they got it wrong having burdened the industry with the additional costs of managing managing the fragmented system.

Hopefully progress can now be made reinstating this route. But rather than being seen as a self contained integrated operation it's greater valve is when integrated as part of the Chiltern & Cross Country networks offering new journey opportunities. Also freight should not be forgotten providing additional routing opportunities Southampton to the Midlands distribution hubs.