Posted 30th May 2017 | No Comments
Passenger figures reel under impact of strikes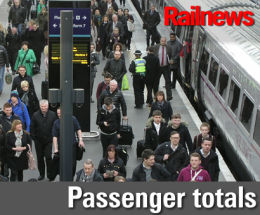 THE total of season tickets issued and the number of passenger trains scheduled to run both fell last year, apparently as a result of more than 30 strikes staged on Southern by the RMT and ASLEF.
The prolonged dispute over driver-controlled operation, which has now been running for a more than a year, has helped to dent the passenger business on National Rail according to new figures published by the Office of Rail and Road.
The ORR said growth had slowed down to 0.8 per cent.
Although the number of passengers still showed a modest rise when calculated nationally, the figures for London and the South East became negative for only the third time since the mid-1990s. The previous two occasions were the aftermath of the Hatfield derailment in 2000-2001, when services were badly disrupted by temporary speed restrictions, and 2009-2010, when the global financial crisis had a disproportionate effect on workers in the City of London and Docklands.
Although the LSE area fell back in 2016-17, growth continued in the long distance and regional sectors.
The total number of passengers, with each train used or likely to have been used counted as a separate 'journey', rose to 1,729.1 million, compared with 1,715.3 million in 2015-2016.
The number of true 'end to end" journeys, with each counted once irrespective of the number of trains used to complete it, has not yet been published, but judging by previous years this is likely to be around 1,475 million, compared with just over 589 million in 1995-96 and 1,464 million last year.
The lowest figure recorded in the 20th century was during 1994-95, when the number of end to end journeys was probably no more than 568 million.
The latest figures confirm that the number of people travelling by train is now nearly 50 per cent higher than in an average year in the 1950s, when the network was twice as large.
However, the most recent changes have been described by the ORR as including a 'small shift' in the type of tickets that rail travellers are using. Compared with 2015-16 season ticket journeys fell by 2.9 per cent, reversing a long-established trend, while the number of single and return tickets grew, with advance ticket journeys up by 9.7 per cent. The market share of advance tickets accordingly rose to 3.9 per cent.
The number of trains scheduled to run also fell for the first time in many years, down by 0.23 per cent to 7,302,587 annually from 7,339,438 in 2015-2016.
However, this change was concentrated on Southern's parent Govia Thameslink Railway, which ran around 80,500 fewer trains during the year because of industrial action.
This drop has masked modest increases recorded by other operators. GWR ran an additional 10,135 trains, or 28 services on an average day, while c2c and Chiltern both added more than 8,000 services each, or 22 trains a day.