Posted 15th September 2017 | 4 Comments
First tram train in Britain enters service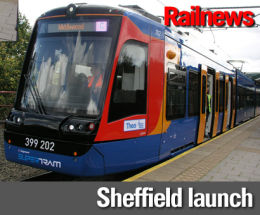 A TRAM TRAIN started carrying passengers in Sheffield on 14 September, after a brief ceremonial launch with rail minister Paul Maynard at the city's tram depot.
Shortly afterwards the Stadler vehicle began its public career by carrying passengers on a local tram route, because through running on to heavy rail to Rotherham is not expected to begin until next year.
The tram trains had been under test on the Sheffield Supertram network for several months before the first public trip, which began at Meadowhall Interchange without any special publicity. However, once passengers were on board they discovered that the conductors were collecting for Sheffield Children's Hospital rather than charging the usual fares.
The small fleet of seven Stadler Citylink vehicles will be maintained at Nunnery depot by operator Stagecoach with the help of Stadler engineers for the next two years, and the longer-term arrangements will be decided then.
The project is running several years late, with the connection to National Rail at Tinsley yet to be completed, while the costs have risen five-fold to some £75 million. It was revealed earlier this year that the government had considered cancelling the project, but decided to carry on because at least £20 million of investment already made by Network Rail would then have been wasted.
Rail minister Paul Maynard said: "South Yorkshire's Tram Train project is the first of its kind in the country and will transform services for passengers, enabling quick and easy movement across the region, reducing journey times and boosting the economy.
"The first passenger service is a significant milestone for this scheme which remains on track to be completed next year and will improve journeys between Sheffield and Rotherham.".
The tram, named after the hospital's mascot Theo, will also be in service on Sunday as a special charity service with Supertram staff collecting donations once again.
Tim Bilby, who is interim managing director for Stagecoach Supertram, said: "We are delighted to be giving passengers in South Yorkshire the chance to be the first in Great Britain to travel on these innovative new tram vehicles today.
"Following successful completion of a programme of testing, commissioning and training, today is an important day and is the next step towards the launch of tram train services to Rotherham next year."
Reader Comments:
Views expressed in submitted comments are that of the author, and not necessarily shared by Railnews.
Would there have been these tram train delays if the project had been in the South, especially around London? I think not. Their Crossrail project seems to be progressing OK.

It seems as if they have conveniently forgotten the fact that these trams started delivery in December 2015 and were due to enter service in Summer 2016 and could have been used to enhance the existing service as promised whilst waiting for Network rail.

It is sad to see just how incompetent the various transport parties are in S Yorkshire more than 2 years after the introduction of dot matrix on the tram system they still do not work and regularly mislead passengers but the PTE and Supertram would rather show wrong information than turn them off and admit another fiasco

It is good news for Sheffield to have newer vehicles and more of them, but I'm not sure we can call it a tram train until the train element is complete and operational. Network Rail, the ball is in your court.
[The vehicles are tram trains. I agree they are not yet working a tram train service.--Editor.]