Posted 4th April 2017 | 2 Comments
Sheffield tram trains to be tested in service soon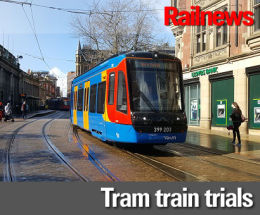 TRIALS have begun of tram trains in Sheffield, and tram passengers are being advised that the new Vossloh Citylink vehicles are now under test on the city's tram network, although out of service for the time being.
The long-awaited introduction of tram trains, which can run on tramways and also heavy rail, has been delayed by several years, having been announced in 2012 when they had been planned to enter service in 2015. Now the full service, including a new link at Tinsley to allow tram trains to run between Sheffield, Rotherham Central and Parkgate, is not expected to begin until next year, although the seven new vehicles are expected to be carrying passengers on the conventional tram network this summer.
South Yorkshire PTE's executive director Stephen Edwards said: "People in Sheffield will start seeing the new vehicles running 'out of service' in between scheduled trams. This important testing is making sure the vehicles and the existing Supertram system are working as they should.
"Driver training will commence shortly and we aim to put the Citylink vehicles into service to supplement Supertram services from this summer. The vehicles will then be tested on the heavy rail network early next year, before going into Tram Train passenger service."
Apart from the chord at Tinsley which connects the tram network with Network Rail infrastructure, other engineering work has included the construction of new platforms at Rotherham Central and Parkgate and also electrification of the section of Network Rail line between Tinsley and Parkgate.
Reader Comments:
Views expressed in submitted comments are that of the author, and not necessarily shared by Railnews.
Well at least the new vehicles are going to be put to use while Network Rail dither around. I look forward to seeing them in daylight (last saw one a few months' back testing in the early hours of the morning down West Street - confused the clubbers no end)