Posted 5th April 2017 | No Comments
RMT and Mayor hail ending of Night Tube dispute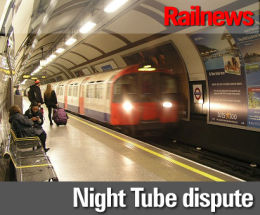 A STRIKE which would have hit Night Tube services in London this Saturday night has been called off, after London Underground changed its mind about the rules covering the ability of drivers to increase their hours.
The RMT said that London Underground had blocked career progression for train operators who work through the night because they could not move into vacant full time positions for at least 18 months, although other staff working at stations were not restricted in the same way. Operators also do not qualify for overtime rates until they work more than 35 hours a week.
At the moment, Night Tube train operators are employed for only 16 hours a week because 24-hour services are restricted to Friday and Saturday nights,
RMT members had voted by over 96 per cent for strikes and by over 98 per cent for action short of a strike, and walkouts had been called for 8 and 29 April.
But a rethink by LUL has ended the dispute.
RMT general secretary Mick Cash said: "I want to congratulate our members for standing firm. It was a senseless and damaging policy that picked out one group of staff for negative treatment and of course the drivers were angry, which is why our members voted overwhelmingly for action."
ASLEF members had also voted for strikes, and the new proposals will be put to a ballot of ASLEF train operators with a recommendation to accept.
LU's operations director Peter McNaught said: "When we introduced the service we promised to provide career progression for Night Tube train drivers and we remain committed to doing so."
The Mayor of London Sadiq Khan has welcomed the news, saying: "I'm pleased that once again we have managed to avoid unnecessary strike disruption for Londoners thanks to our new approach to industrial relations. While my predecessor refused to engage with the unions, we've now seen a number of strikes averted because we're prepared to talk constructively to the people who work for TfL."