Posted 21st March 2017 | 1 Comment
Manchester unveils station takeover plan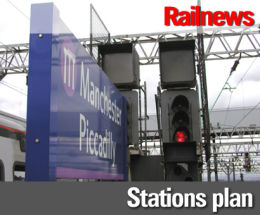 ALL stations in Greater Manchester could soon be owned and run by the city, according to a new £400 million plan. It proposes the creation of 'community hubs', with surplus land released for housing and commercial development, while TOCs and Network Rail would no longer be station operators.
The 'Case for Change' document, which has been submitted to the Department for Transport, proposes that 94 smaller stations in Greater Manchester could change ownership within three years, with the remaining hubs at Manchester Piccadilly, Manchester Victoria and Oxford Road set to follow.
The change would be the biggest in the area since railway privatisation 20 years ago. Network Rail would no longer own the stations in the city, while station management would be transferred to Transport for Greater Manchester from franchised operators or, in the case of Piccadilly, Network Rail itself.
The Greater Manchester Combined Authority said its plans were in line with the 2014 devolution agreement and 2040 'strategic vision' for transport to 'drive economic growth and regeneration'.
Local leaders are critical of the achievements at stations in their area so far, saying that the present structure does not allow for 'long term customer focus', while stations and their facilities 'have not evolved in line with customer expectations'. They say this is 'due to the short length nature of current rail franchise contracts with funding mechanisms of up to no more than nine years'.
If the idea was accepted by the DfT, over £400 million raised from existing resources and additional Greater Manchester investment would be spent on local stations over the next 20 years, with their surplus land being used for housing, commercial development and improved car parking. Already enough railway land has been identified that could be used for 119 new homes.
Stations, reborn as 'community hubs', could also include art galleries, performing arts, festivals and local weekend markets, plus space for offices.
The Mayor of Greater Manchester Tony Lloyd said: "Many of Greater Manchester's rail stations do not meet the expectations of the travelling public. Stations have lost their place in the community, more than half lack step-free access, and some can be intimidating to use, particularly at night. I believe it is important that our transport assets do not just meet, but exceed the demands of users. The case for change is clear.
"With a transfer of rail station responsibilities we can envision our local rail stations as thriving community hubs that can open up access to jobs, housing and leisure."
"We will work with the Government and support where we can to ensure a quick decision is made – we want to start delivering change as soon as possible. This is an exciting opportunity to make a real difference for local residents and passengers."
TfGM chief executive John Lamonte added: "The recent redevelopment of Irlam station has already showcased how our vision can become a reality, demonstrating just what can be achieved when local stations realise their full social and economic potential."
Reader Comments:
Views expressed in submitted comments are that of the author, and not necessarily shared by Railnews.