Posted 8th February 2017 | 4 Comments
Famous swing bridge set to go in Greater Anglia wishlist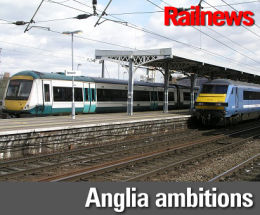 A NEW infrastructure plan set out by Greater Anglia includes capacity increases at various points along the Great Eastern Main Line between London and Norwich as well as other improvements at key points around the region. The GEML plans include the replacement of the single track swing bridge at Trowse, on the approaches to Norwich, with a new fixed double track structure.
Although operators do not usually lead the way in major infrastructure changes, Greater Anglia has decided to accelerate the process. Managing director Jamie Burles is writing to regional stakeholders, including MPs, local authorities, local enterprise partnerships, chambers of commerce and rail user groups to seek their support.
The recently awarded franchise, which already includes the complete replacement of the GA fleets, is partly the result of a previous local campaign. Local authorities such as Suffolk County Council conceded last year that they had not done enough to make the case for rail in East Anglia when the first Abellio franchise was awarded in 2012, and had been determined not to make the same mistake when the current nine-year franchise was being considered by the DfT.
Greater Anglia said organisations in the region will now be asked to support the case for investment to ministers, enabling Network Rail to carry out ten key schemes within the next decade.
Jamie Burles explained: "We are looking forward to the transformation of train services in East Anglia when we bring in a complete new fleet of trains in 2019/20, but to fully realise the benefits of that £1.4 billion investment, we need to see a parallel transformation in the region's rail infrastructure.
"The business case is strong for such investment in a region which contributes positively to national GDP and where financial premiums from operating East Anglia's train services help finance the operation of other rail services across the rest of the rail network. We have set out a targeted list of priorities, which will make a major difference to reliability, connectivity, journey times and service development."
GA said it believed its priorities are consistent with those of the East Anglian Rail Prospectus and the aims of the Great Eastern Main Line Taskforce, the West Anglia Taskforce, the Ely Taskforce and the Felixstowe – Nuneaton strategic freight network project.
The proposed schemes include platform and concourse upgrades at London Liverpool Street, long loops between Colchester and Witham, new digital signalling between London and Colchester and an upgrade at Haughley Junction, just north of Stowmarket, where the line from Ely joins the GE route, and the replacement of the bridge at Trowse. There would be further capacity upgrades nearer London on the West Anglia main line to allow four trains an hour to run between Angel Road and Tottenham (or Stratford), and quadrupling of the line between Copper Mill Junction and Broxbourne as the first stage of Crossrail 2.
Elsewhere in the region there would be upgrades in the Ely area, including level crossings, resignalling and bridge strengthening, and restoration of the double line between Ely and Soham. Other level crossings in East Anglia would also be upgraded.
Greater Anglia said it had already been working with Network Rail and other stakeholders to identify the most urgent components of its plans and start making the case for all ten schemes.
The present franchise started on 16 October last year and is to run until October 2025. What managing director Jamie Burles admitted had been an 'ambitious' bid included the replacement of all GA trains with new fleets which are to be built by Bombardier and Stadler.
Abellio also revealed last month that it is selling a 40 per cent stake in the franchise to Mitsui, saying it had always seen GA as a 60:40 joint venture. An earlier partnership between Abellio and Stagecoach failed to survive the early stages of bidding, and Stagecoach withdrew from the contest in December 2015.
Reader Comments:
Views expressed in submitted comments are that of the author, and not necessarily shared by Railnews.
Not forgetting new railway stations that could also be built in years to come such as Soham, Beaulieu, Cambridge South, Cambridge North (already under construction and is due to open in Spring) and other new stations in the East of England that could also be reopened/opened.

New trains are already on order by Bombardier and Stadler to manufacture the new rolling stock EMU and EDMU (Bi-Mode) fleets to replace the older rolling stocks used on the Greater Anglia network.

The Great Eastern Main Line does need more upgrade works such as signalling, overhead wiring renewals and track maintenance. Including overhead wiring replacement works due to start on the Southend Victoria line.

The Braintree line does need a new passing loop at Cressing to introduce 2tph every hour on timetable.

And still....STILL.... no mention of either doubling or electrification of the Felixstowe branch!! How utterly devoid of all enterprise and drive are we British. This is the busiest freight branch in the country for heaven's sake!! Totally pathetic.
[Calm down. Network Rail is already on the case. Quote: "The second track will be approximately 1.4km from the end of the existing double track at Trimley Station. It will end just before Grimston Lane foot crossing." GA does not need any upgrades on this branch for its passenger service, so Felixstowe wasn't mentioned.--Editor.]

Given the present Transport Secretary seems to be a fan of alliances then perhaps it's time given how Network Rail is back in the public sector for Network Rail and Highways Agency to form an alliance to plan and undertake a joint upgrade of the GER and A12 where they run together to allow for additional tracks for the GER and lanes for the A12 .

As for Liverpool Street Station then double ending of the Station could be possibility given growing developments on Shoreditch High Street together with providing easier interchange with Shoreditch High Street Station .