Posted 10th August 2016 | 11 Comments
Abellio keeps Anglia franchise until 2025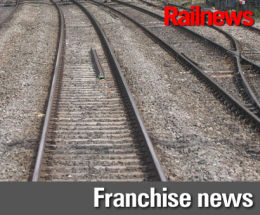 ABELLIO has won the next East Anglia franchise, which starts in October. The Dutch company has beaten FirstGroup and National Express by gaining the new contract, which runs until October 2025.
The contract includes new trains for all routes, many of which are set to be built by Bombardier in Derby and the rest by Stadler. The new Aventra fleet from Bombardier will consist of 660 vehicles to be delivered between January 2019 and September 2020. In all, 1,043 vehicles are to be ordered, the DfT said.
The new trains will be able to meet regional aspirations for London trains to arrive at Ipswich in 60 minutes and Norwich in 90. This will cut present journey times by 20 per cent, but these timings will only be achieved by a few trains each day. The Department for Transport said there would be 'at least' four 90-minute services (two in each direction) between London and Norwich each weekday and two 60-minute services each day between London and Ipswich.
Other benefits announced by the DfT include 32,000 more peak time seats on London Liverpool Street services, universal smart ticketing and free WiFi on all East Anglia trains and stations.
Abellio is presently running the second of two short franchises which have been known until now as Greater Anglia, a title first used by the Strategic Rail Authority in 2004 when it merged Anglia Railways, First Great Eastern and the West Anglia routes of WAGN, awarding the enlarged franchise to National Express. Abellio took over from National Express in 2012, originally on an interim basis, after the NX franchise had been terminated earlier than expected. Abellio was then awarded a second, short contract which runs until October.
Dominic Booth, the managing director of Abellio UK, said: "This is great news not only for Abellio but for the whole of East Anglia. We are pleased to become preferred bidder to deliver a transformation in rail services across the region.
"It will enable us to build on the successes of the two short East Anglian franchises we have run since 2012, and we commend the DfT in running a transparent and rigorous procurement process.
"Our plans will greatly improve our customers' experience with faster and more reliable journeys on new trains with higher frequencies and reduced journey times, to support the socio-economic well-being of East Anglia, one of the country's most successful and fastest growing areas."
Bombardier said it was 'delighted' to be chosen, although it is understood that the final contracts for the new fleets have yet to be signed.
The award of the new franchise had been running late, because it had been due to be announced in June.
Reader Comments:
Views expressed in submitted comments are that of the author, and not necessarily shared by Railnews.
The contention that 10 is not enough units for the 3 per hour service to Norwich is perfectly logical and you would need back up to cover routine services and emergencies. My own view is that the displaced Class 379s would make perfect cover, but would suggest that the Norwich service be structured to provide 2 'fast' services and 2 'semi-fast' services per hour.
The fast service with calls at Colchester and Ipswich only. The semi-fast to call at Stratford, Chelmsford,Colchester,Manningtree,Ipswich,Stowmarket and Diss, and would be operated by the 379s.
The situation regarding Stratford should also be considered. It has developed into such an important hub that one could argue that all services including 'fast' should call there. This would also provide a slightly improved lead time scenario for a slower Southend train for example to clear the path of a 'fast' at Shenfield thereby improving congestion problems during evening rush.

Whatever the fleet details; I'm disappointed at the complete lack of vision from the dfT in seeking to fire-up transport development in what is the fastest growing region of the UK.

Here's what some of my plan for 'Great Eastern' would have looked like.....
------------------------------------------------------------------------------------------------------
1. New franchise would have been branded permanently 'Great Eastern Regional Railways' with a nice Blue and Cream livery, with franchise operators allowed to discretely add their 'operated by......' wording. Passengers are fed-up with all the different liveries and brand names.
------------------------------------------------------------------------------------------------------
2. Long-term aim to add some Ipswich-Colchester-Chelmsford corridor services to 'Crossrail'. Next franchise operator in 2025 to absorb 'C2C', but 'divest' in fast 'Inter-City' services from Liverpool Street to Cambridge/ STN/ Colchester/ Ipswich/ Norwich.
------------------------------------------------------------------------------------------------------
3. Electrification to include Ipswich-Felixstowe/ Cambridge/ Peterborough based largely on freight business movements, but also to permit new Liverpool Street ''loop' services via Cambridge/ Newmarket/ Bury St.Edmunds/ Ipswich and vv........
-----------------------------------------------------------------------------------------------------
4. Conversion of Norwich-Cromer/ Sheringham/ Yarmouth/ Lowestoft-Ipswich to 'tram-train' operation, allowing 'cross-city' street-level tram services through Norwich /Ipswich; (and Cambridge); with the doubling of most current frequencies. A fleet of 'Alstom Regio-Citadis' bi-mode 'tram-trains' or similar would be perfect.
-----------------------------------------------------------------------------------------------------
5. Convert 18 existing Anglia stations near major highways to 'Parkway' stations with copious secure parking and combined 'park&ride' fares; (Alresford/ Audleyend/ Battlesbridge/ Braintree Freeport/ Bures/ Chapel&WakesColne/ Darsham/ Gt.Chesterford/ Harlingroad/ Hatfield Peverel/ Hoveton&Wroxham/ Kelvedon/ Kennett/ Kirbycross/ Manea/ Manningtree/ Markstey/ North Fambridge). Lease or sell these existing stations to 'NCP' or a car-park operator, in return for commitment to other new-build 'Parkway' stations.
-----------------------------------------------------------------------------------------------------
6. A dozen new stations considered at Cambridge-Addenbrookes/ Brentwood-Brookstreet Parkway [A12/M25 jct]/ Chelmsford-Springfield [A12]/ Hethersett [A11]/ Ipswich-Belstead P [A14/A137]/ Margaretting [A12]/ Mountnessing [A12]/ Norwich-Postwick Parkway [A47}Norwich-Venta Parkway [A47/A140]/ Sixmilebottom [A11]/ Soham/ Tas Parkway [A140]. Consider a 'Ministerial Challenge' to seek innovative designs by young engineers to build much cheaper railway stations using entirely re-cycled materials, and funding in co-operation with car-park sector..
-----------------------------------------------------------------------------------------------------


Now, these ideas would make for a truly intriguing franchise.......


[Edited in accordance with Guidance Notes for Contributors (5)]

I believe the editor is right to be cautious on this as I'm having some difficulty in getting the "facts" to meld together; moreover, I think James Miller's assertion that too many trains are being ordered is possibly wrong - are there enough?

If you click on the route specific improvements section of the DfT's announcement, the Inter-City one claims that there will be three Liverpool Street - Norwich services per hour throughout the day; elsewhere in the same announcement, it is claimed that there will be an average 10% journey time improvement throughout the network. So if you reduce present London - Norwich journey times by 10%, a train departing Liverpool Street to go north will be back in London ready to go north again four hours later; by simple calculation, this means that 12 train sets will be required to operate a three train per hour service between these to cities.

But elsewhere, it is being claimed that Stadler will only supply a total of 10 x 12-car Flirts for Inter-City services.

It is also reported elsewhere that another 10 x 12-car Flirts are being procured for Stansted Airport/West Anglia services; simple maths show that 8 are required just to link the airport to London.

If 20 x 12-car Flirts are to be ordered for Inter-City services, I guess this would be sufficient for a three train per hour London - Norwich service plus some Liverpool Street - Cambridge ones; Aventras could then be used on services to Stansted Airport. But why get rid of the recently procured 379s?

I have noted that the report seen elsewhere does caveat its chart by describing the information shown thereon as being the "planned fleet"; moreover, it doesn't exactly match the number of Aventra vehicles shown on the DfT's announcement (one set less shown by the DfT).

Whilst his investment in new trains is good for East Anglia, I do believe it reflects badly on the DfT; this award releases some post-privatisation EMUs (360s and 379s) which have much life left in them, but it has recently awarded a franchise for the North of England which includes some new EMUs. So what will happen to these EMUs (and also the 321s being rebuilt by Wabtec under Eversholt's 'Renatus' project)? Has some sort of cascade been planned?

If the procurement of the Flirts goes ahead, is the Manningtree facility specifically to maintain these articulated trains? And if it is, what effect will it have upon Crown Point?

Obviously, it may be artistic license but images used to show the Aventras being procured show them to only have two doors per side and be 23m long; class 345s have three doors per side, and images of the 710s for London Overground suggest these will only be formed of 20m long vehicles. So will these be the third version of the Aventra? If they are, it shows well just how flexible the Aventra platform is.

And as for the Flirts, the Brexit vote will have increased their cost considerably; if funders acted quickly and forward bought Euros, the vote should not have affected the CAF supplied trains for Northern/Trans Pennine, but this announcement is too late not to be affected by our vote to leave the EU. Possibly, therefore, the Editor's comment does reflect the latest position, and ALL trains procured will be Aventra-based units, despite what is being stated elsewhere.



As an Ipswich Town supporter living in London, I use the line regularly. The biggest benefit for me and lots of other regular passengers is that Norwich-London services will be going to 3 tph.

I have done some rough calculations and feel that Norwich in 90, is not possible for more than a few trains until all passenger trains are capable of 100 mph plus and are modern ones with fast 100-0-100 mph times when stopping at a station.

That would mean that South from Colchester the Great Eastern Main Line would see a succession of fast trains.

I also think that Norwich in 90, would be helped by 120 mph or so trains saving time on the non-busy line North of Diss.

Extending the Sufbury to Marks Tey service to Colchester Town, seems an interesting idea. I feel that because Colchester to Marks Tey has bi-directional signalling and there seems to be junction improvements at Marks Tey, that it might be possible to run two modern trains per hour to Sudbury. If the Colchester Town to Colchester service could release the bay platform, then that could be used for the proposed Colchester to Peterborough service.

Someone has thought very hard about all this. But I sometimes think, they've ordered too many trains.

What a disappointment !

Various sources are now reporting Abellio have ordered 383 Stadler 'FLIRT' regional trains for East Anglia.

These vehicles are Fast and Light conventional DMU/EMU trains which are not street compatible and not bi-mode it seems.

Oh well; maybe next time.......

No mention of loco hauled London - Norwich expresses. With LHCS suddenly back in vogue (Transpennine & Caledonian Sleeper) is new stock (plus possibly Class 88 haulage) a possibilty here or is Anglia still seen as a likely cascade for Mark 4 sets released from East Coast by new IEPs?
[The intention is to use Bombardier Aventra sets for GEML and related services, it is understood. The DfT says the new franchisee will be 'replacing the entire fleet with new trains within 4 years of the start of the franchise', so cascades to East Anglia will be irrelevant.--Editor]

What a huge shame 'tram-train' options are not being explored; these would be ideal for the conversion of some of the Anglian branches. I appreciate the Sheffield 'tram-train' experiment hasn't started yet; but a quick trip to Germany would have convinced many.

The problem with rail services into Norwich is there is still the difficult journey up Castle Hill to reach the city centre. 'Tram-trains' could have worked on the existing rail network into Thorpe station, and then be extended through and across Norwich city centre at street level to the University and Hospital on future tram lines.

Nevermind; next time maybe.

It appears that some of the trains are being built by Stadler - see Dft press release and Abelio tweet.

1040 carriages but only 660 by Bombardier.

But nothing on Stadler website yet.

The DfT press release on the department's website only says that 660 vehicles will be procured from Bombardier; it is silent regarding the balance, but it has been reported elsewhere that these will be bi-modes supplied by Stadler.

Surprisingly, there is nothing on Stadler's website about receiving an order for East Anglia; moreover, Abelio's statement about being selected as preferred bidder for this franchise doesn't mention suppliers, only that a total of 1043 electric and bi-mode vehicles will be provided by 2020.

Interesting!

[Indeed. We have also been trying to sort out the facts in the release you mention, which originally included an error in the last but one paragraph [the reference in the original version which referred to 4,300 trains every week has now been corrected on the DfT website to 8,600]. Our copy has been amended to clarify the new trains position -- as far as we can!--Editor.]

How about Electrification ?Electrifying routes from Ipswich and Norwich to Ely and then from there to Peterboro, plus the Sheringham , Gt Yarmouth and Lowestoft branches plus the East Suffolk line .Getting rid of the clapped out Diesels and having the first region of GB totally electrified with clean environmentally friendly fast electric trains ! Now that WOULD be the greatest rail investment since Victorian times !!!!!
[All the existing diesels are being replaced. The DfT release was not very clear about it, but it appears that the whole fleet is being replaced with Aventra-based units. Our copy has been amended accordingly.--Editor.]