Posted 18th September 2015 | 3 Comments
DfT demands 'Norwich in 90' from next Anglia operator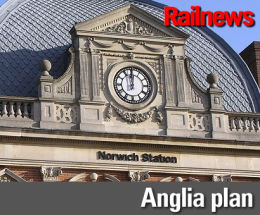 THE Department for Transport has revealed that it expects the next operator of the East Anglia franchise -- presently known as Greater Anglia -- to run its fastest trains between London and Norwich in 90 minutes.
At present the journey takes almost two hours -- a time which has not shortened significantly since the 1960s. The successful winner of the competition will also be required to provide some services between London and Ipswich in 60 minutes.
The DfT has published the formal Invitation to Tender, and conceded that its plans for the region's railways are 'ambitious'. They also include 'challenging' customer service targets.
Some trains will be faster and there will also be more of them, with an additional 180 services a week.
Bidders will be required to set out how they would run at least two 90-minute services in each direction between Norwich and London every weekday, in line with recommendations made by the government-backed Great Eastern Main Line Taskforce. It is not, however, yet clear what Network Rail will need to do if shortened journeys times are to be achieved, but some infrastructure upgrades will necessary.
Other franchise improvements will include free WiFi for all passengers and major improvements to the quality of the fleet, which the DfT says will include 'state of the art' trains and controlled emission toilets fitted throughout. The present Greater Anglia franchise, run by Abellio, has a mixed fleet which includes diesel multiple units of various ages, locomotive-hauled Mk3 coaches on the London-Norwich intercity route and a large number of electric units on the Great Eastern network serving places such as Southend and Clacton.
A plan to rebuild ten Class 321 Greater Anglia units has recently been revealed by their owners Eversholt Rail, after a demonstrator was tested during the winter of 2013-14.
Stations will be upgraded, and the next operator must also create a £9.5 million 'Customer and Communities Improvement Fund'.
The standards of service will be more demanding and will be set directly by the DfT for the first time, with monitoring through mystery shopper surveys as well as direct feedback from passengers. Missed targets will mean financial penalties.
Rail minister Claire Perry said: "For too long, passengers in East Anglia have not had the high-quality rail services that they deserve. Our ambitious requirements will change that by making journeys significantly better than they are now. These plans will also ensure that East Anglia finally has a rail network that supports its growing economy.
"We have set out what we want to see bidders deliver as a minimum, but we are looking for bids that exceed our expectations wherever possible. It is now for the
industry to step up to the challenge and tell us how they will make this happen."
The shortlisted bidders are FirstGroup, National Express and a joint venture between the incumbent Abellio and Stagecoach.
The DfT said it expects to announce the winner next summer, with the new nine-year contract due to start in October.
Meanwhile, the DfT has extended Stagecoach's East Midlands Trains franchise by direct award from October this year to March 2018. The award was expected, because it is shown in the Department's current franchise plan, but not inevitable. Stagecoach failed to reach agreement in July with the DfT over a direct award for its South West Trains franchise, which now ends in February 2017 and will be offered to the open market.
Stagecoach will pay £150 million in premiums for East Midlands Trains if the present level of track access charges is maintained, and £13 million will be invested in the franchise. Improvements include 22 more services between Nottingham and Newark Castle on Saturdays by December 2016, more and faster journeys between Nottingham and Lincoln on Saturdays, a freeze on Anytime fares to London, 15 more automatic ticket machines, better passenger information, £1 million invested in improving accessibility at stations and a better passenger assistance scheme, so that customers who need assistance will only need to book 12 hours in advance, rather than 24 hours.
Stagecoach chief executive Martin Griffiths said: "This is a significant package of investment. It will build on what our team has achieved over the past eight years and deliver further valuable improvements for the millions of passengers and many communities who rely on East Midlands Trains."
Reader Comments:
Views expressed in submitted comments are that of the author, and not necessarily shared by Railnews.
One way to improve performance in the short term would be to replace the existing trains with modern stock and I reckon the new Hitachi AT300 recently ordered for GWR could provide a solution.

AT300 trains also maintain the higher inter city image this line expects while if they are also hybrid duel power trains then services could be extended beyond the wires to include more of East Anglia bringing back through services to London to destinations like Great Yarmouth.

As for route upgrade the GER runs alongside the A12 in many places a road that also needs upgrading so a joint scheme to upgrade both GER and A12 could provide better VFM with in some places what is now road becoming rail and vice versa along a widened corridor with opportunities to remove any level crossings taken if required .

It's Ok to demand improvements from the operators, and I am sure there are things they could do - more powerful locos etc. - but there is no doubt that infrastructure improvements will be needed, and, unless these are already secure in the already challenging CP5 programme, no infrastructure improvements will happen before 2020 and probably a year or two after.

The big challenge with demanding SYSTEM performance improvements is the franchising and HLOS processes aren't (or generously, don't seem to be) joined in planning and certainly not in execution.

[I quite agree, and indeed our copy makes a cautious reference to this issue. We try not to editorialise in our copy, but your comments are very much to the point.--Editor]