Posted 12th January 2017 | 1 Comment
DOO appeal set to be heard by Supreme Court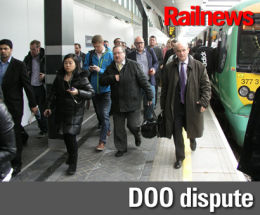 THE long-running dispute over driver-only operation on Southern is set to move to the Supreme Court.
The result of the hearing will affect the lives of many thousand of commuters in Sussex and neighbouring counties whose daily journeys have been disrupted by the ASLEF walkouts, involving around 1,000 drivers. Twelve drivers who belong to the RMT have also been joining the action.
There have already been two strike days this week, and although services are running again on Southern today a third strike is set to take place tomorrow (13 January).
Govia Thameslink Railway has already argued without success in the High Court that the ASLEF strikes are breaching European law, but was granted leave to appeal.
The company said: "GTR is determined to protect its passengers and its business from unlawful industrial action. GTR is therefore prepared to continue its legal claim to the Supreme Court, as it believes that it has an arguable case that the industrial action is unlawful under EU law."
A spokesman said there would be no further comment about the case before the hearing, for which no date has yet been set.
Both sides remain firmly entrenched, with the unions insisting that more DOO presents risks which they are not willing to accept, while GTR, supported by the Department for Transport, has pointed to industry evidence that DOO is safe. The Office of Rail and Road has confirmed this view, along with the industry-sponsored RSSB.
The unions have maintained their willingness to join fresh talks, but they declined an offer by transport secretary Chris Grayling last week, because that was made on condition that industrial action was suspended first.
ASLEF general secretary Mick Whelan said: "I think it's the policy of both the DfT and the company that they won't talk to us in a week of action. If they had come to us for talks, or been willing to talk to us, we would have spoken to them. We've never ever refused a meeting and will not be doing so in the near or any time in the future."
DOO was introduced on British Rail in 1982 between London and Bedford, when that section of the Midland Main Line had been newly-electrified. However, the new trains built for the service, which were designed for DOO from the outset, were 'blacked' by ASLEF and the National Union of Railwaymen (now the RMT), and their introduction into service was delayed by a year as a result. When the Midland services were extended south of London as Thameslink in 1988, full DOO was maintained throughout.
Other services have been converted since then, and around 30 per cent of all National Rail trains now have their doors controlled by the driver, often with no second member of staff on board. London Underground is also fully DOO.
A further debate about DOO is now starting in the north west, after Merseytravel announced that its new fleet of trains from Stadler will have driver-controlled doors, although a second member of staff will be present on some trains. The RMT has warned that unless it receives 'cast-iron assurances' by 26 January that conductors will continue to control the doors it will declare a formal dispute with Merseyrail. The operator said it was 'surprised and disappointed that the RMT has threatened a dispute with the company, when there have been no substantive face to face discussions'. It has also promised that no jobs will be lost.
However, RMT general secretary Mick Cash said: "The union's position on driver-only operation is perfectly clear. We will not agree to any extensions of DOO and will fight to retain the safety critical role of the guard and to keep a guard on the train.
"RMT has asked Merseyrail on numerous occasions for assurances that any new trains will have a second safety critical crew member on board and that the guard will be retained on all services. To date, the company has failed to provide the union with these assurances."
Reader Comments:
Views expressed in submitted comments are that of the author, and not necessarily shared by Railnews.