Posted 17th January 2017 | 1 Comment
New gloomy rail survey figures prompt calls for devolution or nationalisation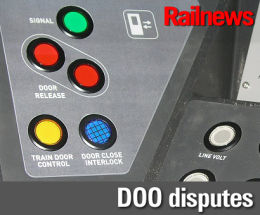 UPDATED 11.40

THERE have been new developments in the dispute over driver-only operation on Southern, but no resolution appears to be in sight.
The RMT has called a conductors' strike on 23 January, with three 24-hour walkouts by drivers belonging to ASLEF and the RMT set to follow on 24, 25 and 27 January. Southern said services will be 'limited' on the 23rd, and that no trains will run during the drivers' strikes.
Previous disruption is also continuing to have an effect: a survey published today by the consumer group Which? reports that Southern is at the bottom of a table measuring passenger satisfaction, scoring just 21 per cent. However, the Rail Delivery Group said it was 'not true that the whole railway is failing passengers'.
Which? said its figure was based on responses from 256 Southern users. Southeastern also fared poorly with 31 per cent, while the Thameslink and Great Northern routes, which like Southern are operated by Govia Thameslink Railway, scored 32 per cent. The RMT has repeated its call for the Govia Thameslink contract to be terminated and replaced by a public sector operator.
The best-performing operator was Merseyrail with 72 per cent, followed by Virgin Trains' West Coast route (69 per cent) and then East Midlands Trains on 67 per cent.
Peter Broadley, who is commercial operations director for Virgin Trains on the West Coast, said: "We're really pleased with the improvements that have been made by Network Rail and our own team over the past few years and the latest performance figures are testament to how far we've come. We know there's still more to do though and we're certainly not resting on our laurels."
Which? based its results on a survey involving some 2,200 people, compared with the official National Passenger Surveys carried out twice a year by Transport Focus, when 50,000 people are questioned about their opinions of the last journey they have made by rail.
The Southern strike has now prompted compensation claims directed at banks as well as the operator, based on consumer rights legislation. Section 75 of the Consumer Credit Act 1974 provides that credit card companies are 'jointly and severally liable' for any breach of contract or misrepresentation by a supplier. One man is already reported to have secured a refund of £2,400 from American Express because at least 50 per cent of Southern trains had been cancelled. This law applies only to payments made with a credit card.
Vickie Sheriff, of Which? said: "Affected rail passengers shouldn't have to resort to such measures to get the compensation they rightly deserve for the inconvenience caused due to Southern's awful service.
"This is why Which? is launching a new campaign calling for rail services to finally deliver for passengers and give them the respect they deserve. Our advice to passengers is to seek compensation under the Consumer Rights Act, and if the train company isn't playing ball, take your case to the small claims court."
Network Rail has announced a £300 million investment on Govia Thameslink routes, to upgrade track, signallling and structures. A spokesman for Govia Thameslink Railway said: "Our passengers deserve better and together with Network Rail and its £300 million funding package to improve track, signalling and overall performance, we're working hard to improve the service."
Jacqueline Starr of the Rail Delivery Group said: "It is not true that the whole railway is failing passengers, nor that operators are failing to comply with the law - but train operators know they must do better and we're sorry when customers don't get the service they expect, including those affected by strikes. We work constantly with consumer groups, including Which?, to improve services and want to do the best for passengers above and beyond what's required by rules and regulations.
"Four in five passengers were satisfied with their train journey in the last independent nationwide survey, which asks more than ten times as many passengers as Which?, but rail companies know they can improve.
"Huge growth in the numbers of passengers and services means that, after decades of underinvestment, the railway is full in many places. That's why rail companies are working together to deliver more than £50 billion of improvements."
Meanwhile the Mayor of London has responded to the Which? survey by repeating his call for greater devolution of train services to Transport for London, although his plans for a widespread takeover have recently been rejected by the transport secretary.
Sadiq Khan said: "This is yet more damning evidence that London's rail passengers are being let down by the private train companies. The transport secretary Chris Grayling is simply burying his head in the sand, letting down millions of commuters. He continues to let the train companies get away with never ending delays, cancellations, and overcrowding. 'It is only by devolving control of London's suburban rail routes to TfL that we can finally get a grip of the crisis and provide a better, more reliable service for London's suffering commuters. The Transport Secretary must put party politics aside, and start standing up for passengers."
Reader Comments:
Views expressed in submitted comments are that of the author, and not necessarily shared by Railnews.