Posted 10th January 2017 | 2 Comments
Unions have 'overreacted' claims Southern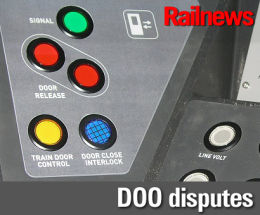 SOUTHERN drivers are on strike again today in the latest series of walkouts in the DOO dispute, and almost no trains are running.
The only exception, apart from a few early trains reported on the Brighton line, is a limited service in peak hours from Caterham to London. Southern said the drivers of those trains had not been balloted and are therefore unconnected with the walkouts elsewhere.
A fleet of 200 buses and coaches is providing road links from key Southern stations to stations on other operators' networks, but early reports suggested that the stations had remained quiet, with most commuters finding another route to work or else staying at home.
The two sides confronted each other in a televised debate on Monday evening, but both maintained their previous positions, with Southern asserting that driver-only operation is safe while the unions continue to insist that it is not, particularly as the railway becomes increasingly busy.
Southern passenger services director Alex Foulds said the unions have 'overreacted', but the RMT and ASLEF do not agree.
Passenger service manager Angie Doll said: "Every opportunity our door is open to speak to the unions about finding a way to resolve this issue.
"We've said to the unions, striking is not the answer here. Coming and sitting around the table, talking, listening and having an open adult conversation, is what will bring this dispute to an end."
Today's strike is the first of three this week, with further walkouts set for tomorrow and Friday. Another three strikes have been called on 24, 25 and 27 January, while a ban by ASLEF on rest day working and overtime is expected to cause some disruption every day until further notice.
Reader Comments:
Views expressed in submitted comments are that of the author, and not necessarily shared by Railnews.
Who are a union to impose a ban on anything??? They surely must suggest, or advise, but to "ban". I have my own brain thanks union, I will make my own decisions. Or I would if I was in a union.