Posted 6th January 2017 | 3 Comments
Transport secretary offers peace talks in DOO dispute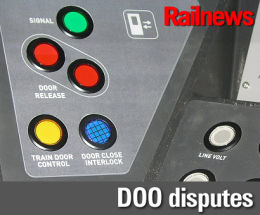 THE transport secretary Chris Grayling has offered to meet ASLEF and the RMT over the long-running driver-only dispute on Southern, but only if industrial action is suspended.
Strikes by drivers are set to go ahead on Southern next week in the continuing dispute over driver-only operation, but ASLEF has reduced the number of strike days from six to three, selecting 10, 11 and 13 January.
However, a further three strikes have also been announced from 25 to 27 January, a decision immediately condemned by Southern as 'a cynical ploy to minimise the impact on pay packets'. However, ASLEF responded that Southern 'has not been prepared to move – it is simply going through the motions'.
Mr Grayling told the BBC that he is not directly connected with the dispute, which is between the unions and a 'private company that works for us'. However, the conversion of most Southern services to DOO has been approved by the Department for Transport and is understood to be an element of Govia's bid for the franchise in 2014.
Under the plan, trains would normally continue to carry a second member of staff, known as an on-board supervisor, who would not control the doors nor dispatch the train at stations
The unions have also been angered by a fresh assurance from the Office of Rail and Road that DOO does not present risks.
It is the second time that the transport secretary has offered to intervene.
Mr Grayling continued: "I want our railways to be the safest in the world. I have requested the ORR set out a national framework for further improvements to the way in which trains are dispatched. I want the unions to be fully involved in this.
"The Government is doing everything we can to limit the impact of this strike on passengers and I have written to the unions again today to offer to meet. No one is losing their job or earning less as a result of the changes.
"Additional measures have been put in place to help people get to work but there will be much less capacity than usual and journeys will take longer. Those who have the option of working from home should do so."
Southern said it would provide road links from nine stations using 200 buses during drivers' strikes, but appealed to passengers not to travel unless they must. National Express is to run extra coaches between Brighton and London on strike days.
The disputes are damaging railway finances, while some observers fear they could be threatening the wider economy as well. Go-Ahead Group, which owns two-thirds of Govia, warned on 15 December that revenue from GTR is expected to be down by four per cent over six months, a loss which the DfT will have to bear.
Reader Comments:
Views expressed in submitted comments are that of the author, and not necessarily shared by Railnews.
The Unions are angered by the assurance that DOO does not present risks. If they are adamant that there is indeed a serious safety issue on any train where the driver controls the doors, why have ASLEF members at Thameslink, where DOO is now a regular practice, not refused to drive such trains?

'A private company that works for us'? says the latest useless Rail Minister,should be the other way round surely? this despute is costing GTR nothing except the millions(?) they are paying out for bustitions and all the media extras,they are saving even more in unpaid wages,they dont even keep the fare money and all delay payments are made by Government what a way to run a railway,come back BR all is forgiven!