Posted 15th December 2016 | 1 Comment
Southern DOO talks break down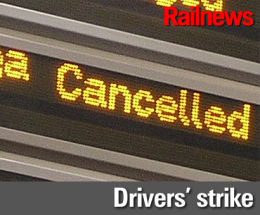 MORE disruption on Southern is now inevitable after talks at ACAS over the driver-only operation dispute broke down on Thursday afternoon, with both sides remaining deadlocked.
ASLEF, which represents almost 1,000 Southern drivers, began the talks at ACAS with Govia Thameslink Railway yesterday, while Southern services had been halted by the second of three 24-hour drivers' strikes called this week. Another strike is now set to go ahead tomorrow (Friday).
The RMT had also arrived at ACAS yesterday, but protested when its negotiators were excluded.
GTR said the RMT has only 12 driver members on Southern and offered to hold separate talks, which will be mainly intended to seek a solution to the parallel dispute involving RMT conductors. Two more conductors' strikes are due to take place on Monday and Tuesday.
The disruption is now worse on conductors' strike days than it was before, because ASLEF drivers have been refusing overtime or rest day working since 6 December and will continue to do so until further notice.
GTR chief operating officer Nick Brown said: "We're deeply disappointed, as our passengers will be, that ASLEF has been unable to accept our proposals and that we cannot find a way forward to end this dispute with the drivers' union at this stage.
"We put a practical offer on the table yesterday for the union to consider overnight with the aim of getting tomorrow's strike called off. Today we explored a number of initiatives with them. We're pleased that the union did acknowledge to us today they welcomed our attempts to find solutions. But, regrettably, they simply will not shift from their entrenched position and rigid opposition to our modernisation plans. Once again, ASLEF want to go back and not look forward.
"Passengers and businesses are being held to ransom by the unions' wholly unjustified and unnecessary industrial action. The real victims of these strikes are passengers who simply want to receive the train service they deserve to get them to work and home again.
"ASLEF claims drivers closing doors is inherently unsafe. The Office of Rail and Road and the Rail Safety & Standards Board have stated that drivers closing doors is a safe mode of operation. For 30 years trains have been running up and down the country's railways this way and today over a third of the national train network runs this way.
"So the public will be simply perplexed that the union is maintaining such an entrenched position given drivers being fully in charge of the train is so commonplace today.
"We're sincerely sorry that commuters' work and family lives are being punished with this unjustified and unprecedented industrial action. The unions must stop the pain and suffering blighting passengers and commerce. We will continue with our plans to modernise our railway and the services we offer customers. We urge the union to think again and work with us and move forward together. Our door remains open."
Meanwhile the RMT has called for a postponement of Night Tube services on the Piccadilly line of London Underground, which are due to be launched tomorrow night. The union pointed to the present shortage of trains, many of which have been withdrawn with wheel damage caused by autumn leaves on surface sections, and said the priority should be to 'run a safe and reliable service in the daytime'.
Reader Comments:
Views expressed in submitted comments are that of the author, and not necessarily shared by Railnews.