Posted 12th December 2016 | 5 Comments
GTR chief warns of 'devastating' effect of Southern strikes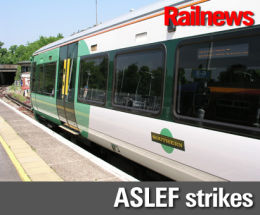 STRIKES by drivers on Southern are set to start tomorrow, after a High Court judge rejected an application by Govia Thameslink Railway last week for an injunction against their union ASLEF.
ASLEF has hailed the decision as a victory and called for fresh talks, although GTR was given leave to appeal and the hearing is expected this week.
In the wake of the judgment, one Sussex MP has said changes in the law should be considered.
Southern services are also being disrupted by a continuing ASLEF ban on overtime and rest day working by drivers, which began on 6 December and will continue indefinitely.
The company had argued that strikes, called in the dispute over driver-only operation, would be a 'breach of the rights' of train users under EU law.
Chief executive Charles Horton had warned of a 'devastating impact' to the economy of the south east if Southern train services were halted but the judge, Sir Michael Burton, said that while the strikes would cause massive disruption they had been sanctioned by a lawful ballot and did not unlawfully restrict freedom of movement provisions.
GTR chief operating officer Nick Brown said: "Naturally we are disappointed. The judge said that such unprecedented strike action by ASLEF would cause massive disruption to the public.
"The judge also said the widespread use of trains using driver operation is perfectly safe both in Southern and elsewhere in the UK. We brought this action for the benefit of our passengers. The judge has given us permission to go to the Court of Appeal."
ASLEF had accused GTR of trying 'to prevent the voice of their put-upon employees being heard', and said GTR's court action had been a waste of 'shareholders' money, passengers' money and taxpayers' money'.
Just over 87 per cent of those who had voted in a November ballot had been in favour of strikes, in reaction to what the union described as Southern's decision to 'force through driver-only operation'. General secretary Mick Whelan said: "Now the company should do the right thing and sit down with us and negotiate -- properly, sensibly and in good faith -- to do a deal for the benefit of passengers, staff and, yes, the company, just like ScotRail did with us earlier this year."
There have been new calls for third party intervention in the long-running dispute over plans to replace most conductors by on-board supervisors. Nick Herbert, who is MP for Arundel and South Downs, said the government should now look at other 'remedies' to counter 'unjustifiable' strikes, including possible changes in the law. He said: "I believe members of Parliament will be very willing to consider it."
Stoppages by drivers are now set to start on 13 December, followed by more walkouts on 14 and 16 December, and then 9 to 14 January. More than 95 per cent of GTR's drivers belong to ASLEF, and GTR has warned that very few Southern trains will run on strike days.
Further RMT action has been scheduled for 19 and 20 December, and then from 31 December to 2 January inclusive.
Reader Comments:
Views expressed in submitted comments are that of the author, and not necessarily shared by Railnews.
It rather appears there are political machinations by the parties involved. On one side,there seems an attempt to destroy union effectiveness, whilst on the other a move to push the re-nationalisation agenda.

Perhaps captive- market operations, such as Southern ought to become cooperatives managed by stakeholder directly elected CEO's ?

The intercity services, where effective competition is feasible should, on the other hand be given over to ongoing competitive open access.

What I find hard to believe in all general news reports seems to be a continued conclusion that Southern/GTR are at fault. Yes, there have been problems and continue to be so - but DOO is a franchise commitment, it is being stated and demanded by the DfT. Everything that Southern does, because of its contract with the Department, is overseen/controlled by the DfT - why is this not being made more public.

The Unions will never back down because the DfT will railroad DOO through across the country. The DfT won't backdown because it does not want to loose face and let the Unions win. The claimed ScotRail deal that ASLEF talks about, as far as I can see basically said we'll keep Guards doing their job and not change the vast majority - i.e. Scotrail backed down.

All the RMT and ASLEF appear to want to do is to cause trouble, cause uproar and bring the railways to a halt. While the Government and Southern are continually showing that DOO is safe, if the Unions want to be taken seriously they need to putting up clear informed independent evidence as to a) why its not safe (and not just their say-so) and b) why they have agreed to it in the past and continue to work trains under DOO. To me that should be what the court cases should be about - is the reason for the strike valid and legal.

The DfT have caused all of this, and have publicly said we didn't consult with the Unions before including the DOO requirement in the franchise contract.

Are there any other similar rail-related industrial actions taking place anywhere else in the world? If so, where and how are they being dealt with? Perhaps the parties involved could show the numpties involved in this dispute the way forward?

I find it difficult to believe that GTR/Southern can't work with the unions to find a way of resolving this. Surely this is poor management. I find it difficult to believe that the contract that the government has is place with GTR allows GTR to get away with this poor service on one of the busiest lines in the country. And I find it difficult to believe that the Government, GTR and the unions put the fare paying passengers through this and still there is no sign of settlement. Perhaps the three parties need to meet in a room with some season ticket holders and not be allowed out until it is resolved? This sounds like something from the 1970's.... Come on guys let get this fixed?