Posted 14th December 2016 | 1 Comment
Peace talks to start in Southern DOO dispute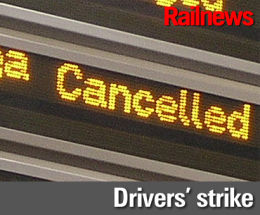 TALKS are set to take place today between Govia Thameslink Railway and the unions in the continuing dispute over driver-only operation on Southern, where a 24-hour strike by drivers has halted all services for a second day.
The discussions will take place against a background of claims and counter claims about the safety of DOO, while the government has warned that it is now considering a ban on railway strikes.
Many stations between London and the south coast have no trains again today. Sussex is the most seriously affected county, although the disruption is also affecting parts of Surrey and Kent as well as Southern's route from Croydon through west London to Watford and Milton Keynes. The Brighton Main Line is still operating because Thameslink and Gatwick Express drivers are working, but only a few of the usual number of trains are running. Southern is again warning its passengers not to travel.
The first union to agree fresh talks at the conciliation service ACAS was ASLEF. GTR chief executive Charles Horton said: "We reached out to ASLEF as we said we would and now welcome the opportunity to discuss a way forward with them. The travelling public are suffering misery and inconvenience and the impact on the regional economy is significant. We assure everyone we are committed to trying to find a solution to the union's dispute."
The RMT has since confirmed that it will also be attending the talks today.
The government, meanwhile, has started to make its own moves in the protracted dispute, when transport secretary Chris Grayling wrote an open letter to Southern passengers in which he said: "This week's strikes ... are entirely politically motivated. ASLEF members will continue this week to drive Thameslink trains, which are driver-only operated, on the same routes that their Southern members are boycotting. The independent rail safety inspector has said that these trains and the Southern approach, which mirrors what has happened on our railways for thirty years, is perfectly safe."
Nick Herbert, who is MP for Arundel and South Downs, had called for the government to look at other 'remedies' to counter 'unjustifiable' strikes, including possible changes in the law, and Mr Grayling has now indicated that this is being considered.
However, this change in stance may have also hardened union attitudes. RMT general secretary Mick Cash said: "Instead of taking action to resolve the disputes on Southern Rail the Transport Secretary has chosen to jack up the rhetoric with his threat to ban strikes and to strip rail workers of their fundamental human rights. Threatening to stop workers from taking action to protect passenger and staff safety is a recipe for carnage on our rail services. Private companies like Southern would be given the green light to rip up the safety rule book with lethal consequences.

"There is a solution to this dispute and it's the solution that the unions were able to negotiate with ScotRail when we were faced with similar issues across Scotland's railways. Mr Grayling, and his contractors Southern Rail, refuse point blank to even look at the Scottish settlement and then they accuse us of political action when it's their intransigence which is blocking any progress."
The Mayor of London Sadiq Khan also clashed with Mr Grayling a few days ago when the transport secretary refused to consider extensions of Transport for London control of the capital's railways. After it was revealed that Mr Grayling had said in a private letter to Mayor Boris Johnson in 2013 that he wanted to keep suburban rail services 'out of the clutches of any future Labour mayor', Mr Khan has accused Mr Grayling of 'playing party politics with commuters'.
The Mayor said: "I share the anger and frustration of commuters. My message to the trade unions is get back round the table and sort this out through ACAS today. My message to the government is 'get a grip'."
Unless there is a breakthrough at today's talks Southern drivers are set to strike again on Friday, while a parallel ban on overtime and rest day working by ASLEF members is also continuing.
Reader Comments:
Views expressed in submitted comments are that of the author, and not necessarily shared by Railnews.