Posted 13th December 2016 | No Comments
Southern at a standstill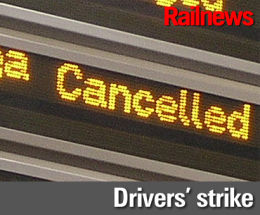 THE first walkout by Southern drivers has begun, and no trains are runnning on most routes.
Hundreds of thousands of commuters in Sussex and neighbouring counties have been left without their usual transport to jobs in London.
The transport secretary Chris Grayling has accused the unions of having 'a political agenda' in the dispute over extensions of driver-only operation, while RMT general secretary Mick Cash has called on him to 'get out of his bunker and start taking direct and immediate responsibility'.
The first of three 24-hour strikes by ASLEF and RMT drivers this week is going ahead after Southern's owner Govia Thameslink Railway lost a last-minute bid to have the action declared illegal by the Court of Appeal yesterday. It was the second legal hearing in just a few days, but in both cases judges rejected GTR's submission that the stoppages would contravene the rights of their passengers according to EU law, and ruled that the strikes are lawful.
The unions are arguing that extensions of DOO, with conductors replaced by on-board supervisors, would be unsafe, but GTR has dubbed their industrial action 'unjustified', saying: "The widespread use of drivers operating trains is perfectly safe both in Southern and elsewhere in the UK, where a third of trains operate this way every day."
Transport secretary Chris Grayling has moved closer to the centre of the dispute by publishing an open letter addressed to Southern users.
In it, he says: "This week's strikes ... are entirely politically motivated. ASLEF members will continue this week to drive Thameslink trains, which are driver-only operated, on the same routes that their Southern members are boycotting. The independent rail safety inspector has said that these trains and the Southern approach, which mirrors what has happened on our railways for thirty years, is perfectly safe.
"What has been most frustrating to everyone is that you are also experienced routine problems on non-strike days too. The biggest factor behind this has been an ongoing and unofficial work to rule, with high levels of sickness, and a doubling of "broken down" trains whose faults cannot be replicated in the depot. However, there have also been too many failures of the Network Rail infrastructure, like signalling, and also very poor communication by the train company. These are things that also need to be sorted out. We have made a start on the infrastructure, but there is a long way to go. Passengers' interests must come first and to resolve these issues we need all staff to come back to work.
"In essence this is a battle between the unions and the management over whether they will allow new technologies and new ways of working on the railway. It is deeply deeply unfair on the passengers who are left in the middle."
Mr Grayling has also clashed with the unions over failed attempts to arrange peace talks. In his letter, Mr Grayling accuses them of failing to co-operate in discussions at ACAS.
He says that "when I met the general secretary of ASLEF soon after my appointment, with virtually his first breath he promised me '10 years of industrial action'. I have therefore believed it better to avoid direct ministerial involvement in negotiations during the autumn, as my involvement would make the issue even more political than it is.
"Following their appearance on the Today programme a week ago, I wrote to the unions offering to become involved and meet them for talks if they called off their planned strikes. They have not yet replied to the letters."
However, Mick Cash has responded by calling on the transport secretary to take charge. He said: "It is an absolute pack of lies for Chris Grayling to say that we were offered ACAS talks in the Southern disputes and refused to turn up. RMT has responded positively to every attempt to get the talks process back on, from Brighton and Hove Albion, the bishops and the Tory MP Maria Caulfield, every single one of those initiatives has been turned down flat by the company.
"RMT has also made it clear to Mr Grayling that we are prepared to meet with him. It is now down to the transport secretary to set out the status of those talks and to make it clear that he is now taking direct responsibility."
ASLEF general secretary Mick Whelan said: "The strikes are not, whatever Mr Grayling tries to suggest, politically motivated. We have a trade dispute with GTR Southern, and only a poor government would seek to spin it any other way. We were willing to go to ACAS last week but GTR Southern refused because they wanted to go to court."
With Southern now at a standstill, only a few railways in Sussex have trains today. The Thameslink route to Gatwick Airport and Brighton is not affected by the walkouts and should run normally, while Gatwick Express services are running every half hour, but only between London and the airport. Southern is advising its passengers 'not to travel', pointing out that other operators' services have 'limited capacity', although Southern tickets are being accepted in some cases.
GTR chief executive Charles Horton said "We will now be asking ACAS to convene urgent and immediate talks between GTR and ASLEF; talks that we hoped to get moving over the weekend, but ASLEF would not agree. Our aim is to find a resolution to their dispute so we can bring an end to the misery being suffered by the travelling public".
Unless peace talks make progress, Southern drivers are set to strike again tomorrow and also on Friday this week, with a six-day walkout due to follow between 9 to 14 January inclusive. Members of ASLEF are also maintaining a continuous ban on overtime and rest day working, while RMT conductors are set to strike next on 19 and 20 December, with more walkouts planned from 31 December to 2 January.