Posted 7th December 2016 | 4 Comments
Mayor told to stay away from National Rail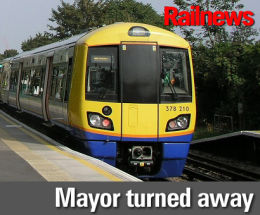 UPDATED: 15.45
THE transport secretary Chris Grayling has blocked the ambitions of London Mayor Sadiq Khan to take over more of the suburban rail network and convert them to Overground lines.
The Mayor is reported to be 'angry' at the decision, which was apparently broken to him by Mr Grayling in a brief telephone conversation with City Hall.
The government had signed a DfT/TfL 'prospectus' in January which envisaged significant handovers of London area services, and this was followed by a TfL business case in October saying 'for every £1 invested in the proposals there would be £4.30 of benefits, including more reliable services, improved customer service, and better access for disabled people, and that this would be at no cost to central Government'.
A map was also published by Transport for London this autumn which showed virtually all current National Rail lines within Greater London as part of a much enlarged Overground network, with only a few routes such as Thameslink remaining outside TfL's control. The Mayor had said: "I am calling on government to give responsibility for London rail services to TfL, as set out in the joint plan published earlier this year."
Mr Khan also wanted to go further, twice offering to bring in senior Transport for London managers to take over dispute-ridden Southern from Govia Thameslink Railway, while he had apparently seen another window of opportunity because Southeastern's present franchise ends in 2018.
Answering a question in Parliament today, Chris Grayling told MPs: "I know that my hon. Friend feels passionately about this, but I do not agree with him. We will have the opportunity, between London, my Department and Kent, to design an improved franchise for the future. What I had to decide was whether the benefits set out in the Mayor's business plan, which did not involve increases in capacity on my hon. Friend's local routes into London, and the incremental improvements that Transport for London claimed it might be able to deliver were really worth putting his railway line through the biggest restructuring since the 1920s. My judgment is that we can achieve the benefits that TfL is arguing for through partnership, rather than through massive reorganisation, and that is my aim."
TfL said: "If the Secretary of State does not take this opportunity to devolve responsibility for the south eastern rail services to TfL now, the chance will be lost until after the next franchise ends – the mid-2020s at the earliest. This decision would also make it very unlikely that services in south central, southwest and north London would transfer to TfL in 2020 or 2021 as previously indicated."
After Mr Grayling told him that there would be no further transfers of control, the Mayor responded: "The only proven way of improving services for passengers is giving control of suburban rail lines to TfL. This is why the government and previous Mayor published a joint prospectus earlier this year. There is cross-party support for this from MPs, assembly members, councils inside and out of London and businesses and their representatives.
"Anything short of this simply won't make the improvements desperately needed. It is a fact, TfL lines have more frequent trains, fewer delays and cancellations, more staff at stations and fares are frozen. We will keep pushing the government to deliver the rail devolution they have promised and that is needed."
Chris Grayling's decision may have been influenced by his plans, announced last night during a speech in London, to integrate the management of infrastructure and train operations in future franchises. He said he expected that the Southeastern franchise will be one of the first to have an 'integrated operating team', although he also signalled some TfL involvement, when he added that a representative would be invited to work with DfT officials drawing up the franchise specification.
Even so, some London politicians are disappointed. Labour London Assembly Member Andrew Dismore said: "It's the greatest shame for passengers that the Minister's political point scoring has seemingly taken precedence over their needs.
"The fact remains that where TfL have managed services, we've seen some of the best performances. If allowing TfL to manage suburban rail franchises will mean paying passengers get better, more reliable services, then we need to move past this pettiness and make it happen."

Analysis

Sim Harris, Editor

TRANSFERS of suburban rail services to Transport for London began in November 2007, when Mayor Ken Livingstone stood at Hampstead Heath station and watched the first North London line trains passing through with their 'Silverlink' branding covered by new 'London Overground' vinyls.

At first, Overground consisted of the North London route plus the Euston-Watford 'DC' lines, the West London line from Clapham Junction to Willesden Junction and the non-electrified route between Gospel Oak and Barking (which is now being electrified).

A series of additions followed: the former Underground East London line was closed, modernised and extended, so that the old and rather down at heel link between Shoreditch, Whitechapel and New Cross Gate became a much longer, cleaner and brighter route, whose trains now run between Highbury & Islington and West Croydon, sharing the tracks with National Rail services south of New Cross Gate. A new junction and chord near Surrey Quays then allowed some East London services to turn right and continue across south London to Clapham Junction via Denmark Hill from December 2012 -- effectively creating what Mayor Boris Johnson dubbed 'the M25 of rail'.

That was not the end of the story. The West Anglia suburban routes from Liverpool Street to Enfield Town, Chingford and Cheshunt via Seven Sisters (plus Romford-Upminster) were also transferred from the Greater Anglia network in June last year, and new trains are currently on order for these lines from Bombardier in Derby.

No one can seriously claim that the concept of carving out an 'S-Bahn' around London hasn't worked. Its 112 stations have been consistently upgraded to TfL's high standards, there are more frequent trains and more station staff, while all Overground lines apart from the most recent West Anglia additions have already received new trains.

The public response has been resoundingly positive, demonstrated by soaring passenger totals which rose from 33 million in 2008-09 to 184 million (admittedly on a larger network) in 2015-16.

On the North London line in particular usage rose so dramatically that the original three-car Class 378 units procured by TfL for Overground have twice been extended, first to four and then to five cars. Even six cars have been mooted, but these would be difficult to accommodate at some intermediate stations, whose formerly stubby platforms have already been extended as much as possible without the costly rebuilding of structures such as overline bridges.

Overground is run via a concession, which changed hands last month from a joint venture owned by MTR and Arriva (Deutsche Bahn) to a new operator run by Arriva alone.

Another TfL 'victory' has been Crossrail, and as part of the preparations for the launch local trains between Liverpool Street and Shenfield have been transferred from Greater Anglia to a temporary entitity known as 'TfL Rail', whose trains are already being run by future Crossrail operator MTR. This will give way to the new Elizabeth line services, which are due to start running from Reading and Heathrow in the west to Abbey Wood and Shenfield in the east in 2018-2019.

So far, so good, but London's new Mayor has been voicing much greater ambitions following the example of his predecessor Boris Johnson, whom he replaced in May this year.

His map showing almost every passenger railway in London under TfL control appeared in the autumn, but after promising noises from the DfT in the closing months of Johnson's tenure (when the transport secretary was Patrick McLoughlin) the changes of control at both the DfT and City Hall seem to have prompted a rethink.

Perhaps Mr Grayling has taken the view that enough is enough as far as TfL is concerned, and he has now rejected its ambitious vision of Overground To Everywhere -- to paraphrase an old Underground slogan.

Would it work? The main problem, perhaps, is that as rail takeovers go it would have been far larger and much more complicated than any previous Overground expansion, each of which has been mainly concerned with more or less self-contained routes.

It was not beyond TfL's resources to upgrade the few routes which formed Overground at first, and each development has been staged gradually, allowing it to be closely planned and managed. Dropping all the suburban routes and stations of Southeastern or Southern into TfL's lap in one go would be a far greater event, and it would surely have put its finances under some pressure. There would not be the same need to replace the fleets (much of which were only delivered in the present century), but even refurbishing so many stations with orange roundels and the rest of the Overground design manual would be a substantial task, while thousands of staff would also be involved in the changeover.

From an operational point of view, Overground trains running over nearly all the London surface lines would be much more involved with other trains -- either freight or passenger -- heading further afield. It wouldn't be impossible (it happens on a smaller scale now on some lines, such as the North London), but it would be a big pill to swallow, while the bonus of greater integration with TfL services might only have been achieved at the price of becoming less seamless so far as the rest of National Rail was concerned.
However, another element in this debate has also been revealed. A leaked letter from Mr Grayling to the Mayor of London Boris Johnson in April 2013 allegedly included these phrases: "While I am generally a great supporter of what you are doing in London, I would not be in favour of changing the current arrangements. Not because I have any fears over the immediate future, but because I would like to keep suburban rail services out of the clutches of any future Labour mayor."

Whatever his reasons, Chris Grayling has thrown the points and indicated a new route for railways in London. His decision has caused some chagrin to the Labour Mayor, but perhaps it is still in the best interests of the passengers who, as Mr Grayling tells us, should always come first.
Reader Comments:
Views expressed in submitted comments are that of the author, and not necessarily shared by Railnews.
Grayling is clearly unfit for the position and needs to step down immediately, for the reasons that Melvyn points out.

Devolution to TfL will improve services, facilities, and reliability, as the other Overground lines have demonstrated. The status quo doesn't cut it anymore.

Well a copy of the letter to former Mayor Boris has appeared in today's Evening Standard and clearly states that he wants to keep surburban rail out of the control of a future Labour Mayor it even goes on to say a future Labour Government demonstrating how out of touch he is with reality!

It seems this action has led to one senior London Conservative MP to say he has no regards for the present Transport Minister while calls for him to resign are growing..

This is simply playing politics with the millions of commuters who use London railways every day and some of whom can see brand new Overground trains at stations like Denmark Hill while learning their Southern train has been cancelled and knowing Grayling is doing nothing to sort out the mess he is responsible for L

Transfer of services to TFL and London Mayor is just the beginning of a process that can lead to projects like Crossrail and Thameslink linking lines together together with creating new improved interchanges etc .



I always have a deep suspicion of Monopolies. It gives too much power to Unions for a start who thereby ensure there are not alternatives when they have 'actions' in one area. It also leads to complacency in Management and Owners. British Rail was the prime example of everything than was wrong with a Monopoly.