Posted 8th December 2016 | No Comments
Govia awaits High Court DOO strike ruling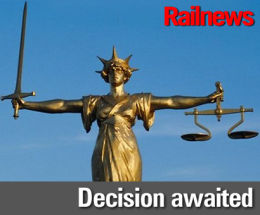 A JUDGE is expected to decide today if ASLEF's forthcoming strikes on Southern in the driver-only operation dispute are legal.
Govia Thameslink Railway is seeking a High Court injunction against the drivers' union, arguing that planned walkouts starting next week would be a 'breach of the rights' of train users.
GTR chief executive Charles Horton had warned of a 'devastating impact' to the economy of the south east if Southern train services were halted. He said: "We have a responsibility to our customers to do all we can to protect their interests and maintain services for them."
ASLEF has accused GTR of trying 'to prevent the voice of their put-upon employees being heard'. Just over 87 per cent of those who had voted in a November ballot had been in favour of strikes, in reaction to Southern's decision to 'force through driver only operation'.
Meanwhile, Southern train services are being disrupted again for the third day running by another strike of conductors belonging to the RMT, who are most affected by the proposed changeover from full conductors to on-board supervisors on most Southern routes.
The disruption is being worsened by a parallel and indefinite ban on overtime and rest day working by ASLEF drivers, which started on Tuesday.
Unless the court rules against them, the first ASLEF strikes are set for next week, with stoppages on 13, 14 and 16 December. A week-long walkout is planned in the New Year from 9 to 14 January inclusive. The next RMT strikes are planned for 19 and 20 December.
RMT action by conductors has reduced services on strike days by around 40 per cent, but if drivers walk out no Southern trains are expected to run.