Posted 22nd November 2016 | No Comments
New DOO walkouts disrupt Southern services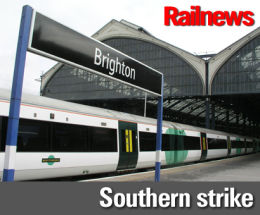 THE first of more strikes by conductors on Southern is under way today, and there seems to be little sign of a peace settlement between Govia Thameslink Railway and the RMT.
The RMT said the response to its latest action has been 'rock solid and determined', while GTR said 62 per cent of its services were running. Commuters have tweeted angry messages, describing 'rammed' trains once again.
GTR wants to replace most conductors on Southern with on-board supervisors who would not control the doors nor dispatch trains, and who would not be absolutely necessary -- GTR says Southern trains should be able to run with only a driver on board in 'exceptional circumstances'. It says the change will boost reliability.
The RMT is firmly opposed to any extensions of driver-only operation, and says those routes which have already been converted to DOO -- starting with Bedford-London in 1982 -- lost their conductors in an era when trains were shorter and the railway was much less busy than it is now.
GTR denies union claims that safety would be compromised by the change. The company explained: "We guarantee that traditional conductors will retain current competence and will guarantee that the second member of on board staff will be trained to a 'safety competent' level including track safety training, train evacuation, traction competence and full commercial route knowledge, excluding train dispatch."
As the latest strike started, GTR passenger services director Angie Doll added: "We are doing everything we can to provide as many services for our passengers as possible and I'm pleased that we're able to add more services this time to help our passengers get where they need to go.
"We're sorry that, once again, our passengers are facing disruption through unnecessary industrial action. Over 99 per cent of affected conductors have now signed up to the new role, which makes this strike even more pointless."
The RMT is planning more walkouts between now and the New Year, and is calling on the Government to break the deadlock.
RMT general secretary Mick Cash said: "The sheer pig-headedness of the company and the Government means that our members are being forced to take further industrial action this week in a bid to maintain a safe and secure service on Southern. The blame for today's disruption is wholly down to GTR and Chris Grayling.
"Over the past few days we have seen repeated chaos on Southern Rail services that has shown yet again that they are simply incapable of running safe and reliable services.
"In light of the continuing public anger at the absolute state of the Southern Rail operation it is disgraceful that neither the company or the Government are prepared to engage with the unions and are continuing to attempt to impose DOO solely in the interests of putting profit before safety.

"RMT calls on the Government to force Southern back to the negotiating table instead of just jamming their heads in the sand."
More strikes have been called for tomorrow (23 November), followed by 6-8 and 22-24 December, then 31 December to 2 January inclusive.