Posted 9th August 2016 | 2 Comments
Southern digs in over 'pointless' RMT conductors' strike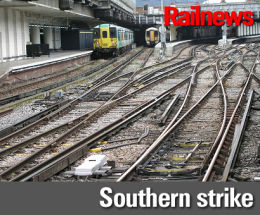 SOUTHERN has claimed that one in five conductors turned up for work on the first day of the DOO strike, effectively defying their union the RMT.
The five-day strike is in its second day, amid warnings from Southern's owner Govia Thameslink Railway that the changeover from conductors to on-board supervisors 'is happening'. The company said it will to begin to make the change on 21 August, despite determined union opposition.
The RMT is pointing to a provisional agreement it has with ScotRail, which includes an undertaking that no train will run without two members of crew on board.
However, although Southern will guarantee that every train currently operated with a conductor will continue to have either a traditional conductor or a second member of on-board staff, the company's offer still includes a long-stop provision that a train could run with only a driver in 'exceptional circumstances', which are to be set out in detail as part of any agreement.
GTR human resources director James Bindon told the RMT's general secretary Mick Cash: "This offer should not be considered in relation to a direct comparison with the words you have agreed with ScotRail, but the very different outcomes we wish to achieve in terms of modernisation, performance improvements, customer benefits and career development."
GTR chief executive Charles Horton said: "Everyone is sick and tired of this pointless, needless and senseless strike, which is so damaging to people's everyday lives and the South-east economy, and causing undue disruption and hardship to customers and employees. I urge the RMT to come back to the table to talk, have constructive and productive discussions on the way forward and shake hands on a deal. We are prepared to meet them directly or through ACAS any time, any place, anywhere to let common sense prevail and give our customers back their trains and give them the service they expect."
RMT general secretary Mick Cash has continued to insist that it is safety, rather than jobs, which is at the heart of the dispute.
He said: "I have written to Charles Horton today (Tuesday 9 August) calling for talks to get back underway immediately in the Southern guards dispute.
"The union believes that there is a deal to be done based around the ScotRail principles and that we need to pick up on the progress that was being made when the talks broke down on Friday afternoon.
"It is in no one's interests to prolong this dispute when the framework that can take us forward has been so clearly laid out."
Southern said it was operating approximately six trains out of ten, but there continues to be no service on a number of routes.
Reader Comments:
Views expressed in submitted comments are that of the author, and not necessarily shared by Railnews.
Time the unions were destroyed once and for all. There is little point in taking HS2 forward whilst we have unions that demand we keep Victorian working practices (guards) on our railways. We have new trains ready to come into use, but they must sit in sidings completely useless as the button to open and shut the doors is in the driving cab. Bit like the problem when BR was trying to introduce HST's in the 1970's, they were delayed by about 2 years whilst the argument over a second man in the cab raged on. Which makes a joke of re-nationalising the railways which is the Utopian dream of the union commies...

If it really was about safety as Mick Cash keeps claiming then the findings of the RSSB (who's job it is!) would have satisfied him. Then again Mick Cash should tell that to one of his members who stated on the news yesterday that they want to remove GTR from the franchise. Does the RMT realise that should GTR lose the franchise then whoever takes over will just implement DOO straight away and THEN there will be job losses.