Posted 11th May 2016 | 8 Comments
War of words as further Southern strike is called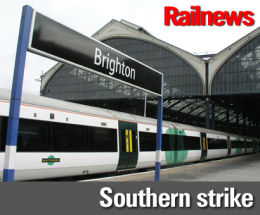 THE RMT has announced that its conductor members on Southern will strike again next Wednesday -- 18 May -- which is two days earlier than previously planned. Meanwhile a war of words has broken out between the two sides in the increasingly bitter dispute.
The disagreement concerns the extension of driver-only operation on Southern, but the RMT is also accusing Southern's operator Govia Thameslink Railway of adopting a 'threatening and abusive stance' towards union members who are 'using their basic human right to strike in defence of rail safety'.
GTR has denied that transferring door control to the driver has any safety implications.
A company spokesman said: "This is clearly a cynical ploy by RMT leadership to maximise the disruption their action will have on passengers by moving the strike, with the bare minimum of notice the law requires, from a Friday, when fewer people traditionally travel, to midweek. This action is completely unnecessary; there's a job for everyone who wants one and no-one will have a cut in salary. The only difference is that conductors will no longer close a train's doors."
Some Southern trains will continue to carry conductors controlling the doors, and GTR has given staff until 20 May to say whether they wished to remain in this role, pointing out that it would be 'first come first served'.
The spokesman added that the RMT's allegations about GTR's 'threatening' stance were 'totally groundless', and pointed out that six out of ten trains on GTR are already DOO. On Thameslink, this has been the case since 1988.
RMT general secretary Mick Cash said: "The union has once again reassessed the tactics of the dispute and, recognising the hostile and aggressive stance taken by the company as we fight for the basic principles of rail safety, RMT's executive has decided to switch the next phase of action to 18 May, two days before Southern's outrageous ultimatum to staff.
"Southern GTR should be under no illusions, the union will not bend to their bullying and threats and we will be out there building on the huge public support we have already mobilised in a campaign that pitches the demands for increasing private profits against safety on our railways. The company know that they are losing the public battle and have resorted to some of the dirtiest tactics seen in an industrial struggle in Britain in many years. They will not get away with those attacks on basic human rights."
GTR is also remaining firm. The company said: "The refusal of the RMT to negotiate has left us with no option but to press on with our plans to evolve the role of the conductor on many of our services."
A contingency timetable is now being drawn up for next Wednesday. GTR said as during the previous strikes it expected to run a limited service, with no trains on some routes and reduced frequencies on others.
Reader Comments:
Views expressed in submitted comments are that of the author, and not necessarily shared by Railnews.
The fact is that the job can be done by the driver and is being done by the driver in many instances. The rail regulator permits this. If staff are concerned for their jobs then that is a legitimate concern but, you will all suffer together if you continue to use strikes as the means of expressing your dissatisfaction. When Govia loses its contract then many more staff will be affected. Strikes simply hasten the day. As a passenger, I can assure you that public sympathy for strike action over an issue like this is a fanciful figment of the RMT's wildly overactive imagination...

Researching following Mr Beck's comments, I found more RAIB incidents:
5th June, 2013: Newcastle Central Station: "CONDUCTOR failed to carry out safety checks before signalling......that the train could depart"
22 October 2011: St James' St Station, Liverpool. The Guard despatched the train, knowing the passenger was leaning against it. A sad case.
Other cases I found involved mainly London Underground and usually with train despatchers present. Nothing to suggest that Conductors/Guards would have meant the accidents were avoided.

Strange how there's no mention of the "ding ding and away" problem that is probably the greatest threat to safety. OPO would avoid this at least.
If this issue is really about safety, the Unions should stand by what they say and NOT allow the trains to be operated regardless of any possible legal consequences. How they explain how it's Ok for 10 cars but not 12 is another question.
James Beck says: "Given the amount (sic) of trap and drags incidents on DOO making the RAIB (sic) of late....." Looking at the RAIB website, there is one ongoing investigation about an incident on 25 July at Hayes and Harlington involving a 3 car train. The only other one I could find was one at Holborn station on London Underground on 3rd February 2014, when a train des patcher was working on the platform! Let's try and stick to facts, please!

I just believe the human eye of the conductor is better suited to this role compared to some cameras. The cameras would be better quality than those in a high steet shop (which are frankly shocking to say the least), but no matter how used a driver is to a cab full of technical buttons, they should just continue focusing on being ready for departure (looking at the signal to see which aspect it's displaying for example). Conductors can shout down the platform at a passenger trying to open a door when it's already closed, whereas a driver wouldn't do that as they wouldn't pop their head out of the window and shout such words. There'd already be beginning to start departure after they'd shut the doors.

Given the amount of trap and drag incidents on DOO making the RAIB of late, and the fact that staff are facing prison sentences or at the very least dismissal for these, it would seem to me that this is an unacceptable risk. Perhaps DOO works alright on short 2 or 3 car trains where the driver can lean out of the cab window, look back or be in earshot to shout warnings if people lean too close to the side. I cannot see how the same can be said for an 10 or 12 car train.

I also wonder how a driver can safely deal with a bunch of drunks leaning against the vehicle 10 or 12 carriages down from them, a guard can at least position himself at the safest location and deal directly with people, or monitor what is going on.

It is interesting how the phrase "closing the doors" is used by the company rather than "transfer of safety critical responsibility for dispatch, with associated criminal charges for mistakes", to describe this change, as though it is made out to be a case of simply pressing a button, rather than something which could potentially see someone in prison if someone no matter what their behaviour is injured / killed.

As for job losses, where are all the Gatwick Express caterers, welcome hosts and ticket inspectors now?

Its all about money not Safety. The Railway Unions live in a time-warp which no-one else has done for 30 years.

But there are loads of other trains that don't have conductors? whats the difference between those trains and these ones, (please feel free to correct me as i genuinely don't know)

Safety-critical guards can do the job, driver-only operation can't without the risks. Until Southern get that message, the strikes will go on and on.