Posted 18th May 2016 | 4 Comments
Disruption as Southern conductors strike for third day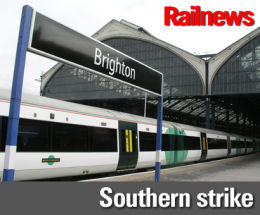 SOUTHERN services were widely disrupted as conductors belonging to the RMT staged their third one-day strike on 18 May in the dispute over driver-only operation.
The RMT has claimed that safety is put at risk by DOO, and is opposing Southern's plans to replace conductors on many trains by 'on-board supervisors', who would deal with revenue protection and assist passengers, but take no part in operating the train. Some conventional conductors will remain, and they will continue to open and close the doors on their trains and give the starting signal. Staff who want to be considered for one of these jobs have been given until Friday to put their names forward.
Southern's owner Govia said DOO is already widely and safely used on other services, including its Thameslink, Gatwick Express and Great Northern networks.
The strike had a 'significant effect', with no trains running on many lines and only a limited service elsewhere between approximately 07.30 and 18.00.
Other operators' trains were very busy. When conductors walked out for two days last month, Clapham Junction had to be closed for a time on the second day because of overcrowding.
Meanwhile, the RMT staged a protest opposing DOO outside the QEII conference centre in Westminster, where the Department for Transport was holding a Rail Industry Day.
Reader Comments:
Views expressed in submitted comments are that of the author, and not necessarily shared by Railnews.
Why must Govia compromise every time the RMT comes with new ridiculous demands? Railways are not only there for the employees.


Is it possible to sue the union and its members for the disruption to other businesses and loss of pay for workers who cant get to work or other Loss of money?
[The answer is almost certainly no, so long as the rules concerning industrial disputes and ballots were observed. See my response to you when you asked the same question on 5 May ('Strike ballot starts over Night Tube offer').--Editor.]



I am surprise that Govia Thameslink South can't manage their workforce better. They are one of the poorest performing Franchises at the moment and this will make it worse. They obviously are treating their customers with contempt as they clearly don't care about the disruption they are causing. Both sided need to compromise on this and think more of the traveling public? Or have I missed something?


A 'significant effect' on services, eh? I do sympathise with the passengers being disrupted, but the RMT are doing these strikes with the passenger at heart.