Posted 26th April 2016 | 6 Comments
Strike by RMT disrupts Southern services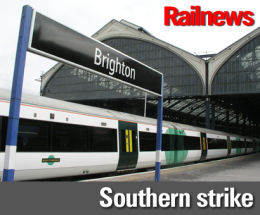 MANY Southern routes have no services today as members of the RMT stage the first of a two-day strike in protest at plans to extend driver-only operation.
There are no Southern trains on most local lines, including Clapham Junction to Milton Keynes Central, Dorking to Horsham, Oxted to Uckfield, Haywards Heath to Lewes, Preston Park to Hove, Lewes to Seaford, Eastbourne to Ashford International, Chichester to Havant, Portsmouth Harbour and Southampton Central, Redhill to Tonbridge and Redhill to Reigate.
Main lines will mostly have a limited service, and trains will stop running by 18.30. Southern has warned that other services, such as Thameslink and Gatwick Express, will be busier than usual.
The RMT has set out what it described as the 'core points' in the dispute: 'the removal of conductors from trains, safety under threat and the company putting profit before safety'.
The union's general secretary Mick Cash said: "Let us be crystal clear – this dispute is about safety and the safety-critical role of the guards on Southern trains. The company, with an eye on ever-fatter profits, is prepared to axe the guards on some of the most overcrowded and potentially-dangerous services in Britain so that they can squeeze every last penny out of their passengers regardless of the consequences. That is a lethal gamble with safety in the name of profit and that is why we have been forced to take strike action."
Souther, which is part of Govia Thameslink Railway, has denied that its plans will affect safety.
In a message to passengers, the company said: "We are disappointed that it has come to this, especially as we have been at pains to assure all of our conductors that there will be no job losses or reduction in salary as a result of the improvements we want to make on board our trains. This strike action is completely unnecessary and damaging.
"On our more modern trains, we want to evolve the conductor role into one of an on-board supervisor, who is more visible to more passengers, travelling on more parts of the network, delivering high-quality customer service and checking tickets. There would be as many trains running with staff on board as they do now - but you will see more of them than you do now because they will have more time and opportunity to offer good quality customer service.
"Currently, conductors on our more modern trains have to be in certain parts of the train to close the doors -- sometimes interrupting their time with a passenger. However, on these trains, there is no need to do this and the driver is able to operate the doors aided by CCTV, which gives them a clear view of every door on the train.
"In addition to the benefits of evolving the conductors' role above, trains that don't need a conductor won't rely on a second member of staff for the train to run, and in times of disruption, that's really going to help trains run on time – something we are passionate about."
Unless the dispute is resolved more disruption lies ahead next month, because further walkouts have been called from 10 to 13 May.
There was better news for London Underground passengers. Planned walkouts on the Piccadilly line called for today and Thursday have been suspended after 'progress' with talks over the safety of passengers and staff on the 40-year old fleet and also claims by the RMT that some of its members had been bullied. However, RMT general secretary Mick Cash warned that 'the dispute is not over yet'.
Reader Comments:
Views expressed in submitted comments are that of the author, and not necessarily shared by Railnews.
I can assure Ian Cowell that this dispute is about passenger safety. In my 9 years as a guard I have personally dealt with a number of situations where passengers have had accidents or been taken ill, including a woman who fell on black ice who hit her face on railings as she fell and banged her head on the ground. I called an ambulance and waited with her until it arrived. On other occasions I looked after a woman having an epileptic fit and a young girl who had passed out from the heat on a crowded train. That's apart from the people I've protected from drunks, thugs, and hooligans, including getting a bloke arrested who had told passengers he had a gun in his bag and was going to shoot someone when he got off. Then are those on the wrong train, some of them totally lost and almost hysterical, that I've reassured and put back on the right track, the ones who've missed their last connection because of delays that I've arranged taxis for, and the woman running away from an abusive relationship with no money and no ticket who I helped get to her family in Peterborough.
Mr Cowell seems to have met a couple of guards who either needed re-training or disciplinary action, he should not attempt to tar us all with the same brush.

Chris Green: most of the delays are caused by guards opening the doors once the train has stopped. As I've said in previous comments, there is no need whatsoever for a delay of 15-20 seconds AT EACH STOP whilst the Guard checks that the train has stopped in the correct position. The DRIVER should be able to do this and shouldn't be a driver if they can't. Delaying doors closing because of a late arriving passenger is a red herring, because a driver could do that as well!
As a passenger who happens to have an interest in trains, as opposed to a rail worker who is merely concerned with protecting self-interests, I do object to this being called a question of safety.
I suggest you pay a visit to Switzerland and see how efficiently and SAFELY DOO works there, as in most of Europe.

I suppose having fitted cameras in the driver's cab is the future to door operation, so guards can concentrate more on revenue collection. However, what I and others would really like to know is if there is a proven disadvantage to this, which would pose a risk to passengers' safety? Guard operation does have the disadvantage of slowing down departure if they allow a late-arriving passenger to board, but that is besides the point. We're talking about safety here, and this surely has more disadvantages than the guard operating the doors.

As long as there is a second member of staff on the train, visible to passengers and not hidden in the back cab, checking tickets not looking out of the window or reading The Sun ... Good. That would be progress.

Let me be crystal clear - this dispute cannot be about passenger safety!
I've been in the unfortunate position of being a witness and helping two people that have had a heart attack or been taken seriously ill on a train and the conductors do nothing. One occasion they stood on the platform and watched while me and another passenger looked after someone who was seriously ill. After medics took the patient away I asked the conductor why? He said "I don't want to get involved"! Another occasion, the conductor simply didn't know what to do and it ended up with the passengers getting the emergency services to meet the train at Gatwick. Where on earth does the safety of the passengers come into this?!
The RMT is nothing short of a disgrace and continues to make traveller's lives a misery on all forms of transport - the train companies are bad enough and strikes just make everything worse!

I stand by them on this - these proposals harm the safety of passengers.