Posted 25th April 2016 | 5 Comments
High Court intervenes in Gatwick DOO dispute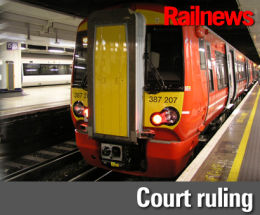 A HIGH COURT judge has ordered ASLEF not to 'induce' refusals by Gatwick Express drivers to operate 12-car trains. Govia Thameslink Railway said it was 'pleased' at the ruling, but ASLEF is balloting its members on Gatwick Express and Southern, which is also operated by GTR, while Southern services are also set to be disrupted by a separate conductors' strike from tomorrow.
Drivers have refused to work 12-car formations of the new Class 387 units without conductors, which started to come into service on the airport route at the end of February. At least two services have been cancelled. GTR says it plans to operate roughly half the Gatwick service with 12-car trains when the full fleet of 27 four-car units has been delivered from Bombardier in Derby.
Some of the new fleet was first placed in experimental service earlier this year on Thameslink between Bedford and Brighton, where the new Gatwick sets were sometimes worked in multiple with other 387s to form 12-car sets. The Thameslink route has been fully driver-only operated since 1983.
ASLEF said it was not safe to work 12-car sets on the Gatwick line, because drivers could not see that all the doors were clear and that the train could depart.
The union has also accused GTR of trying to impose 12-car working without agreement.
A spokesman for GTR said: "We are pleased that the Court has granted us an injunction that ASLEF must not induce our drivers to refuse to operate the new 12 car trains. Gatwick Express services have operated without conductors operating the doors for seventeen years, so we were never able to understand why the ASLEF union objected to the operation of these new trains in the same way.

"The new trains will offer significant benefits to passengers including a much better travelling environment. We plan that by June 50% of weekday services will operate with 12 cars and we will now commence their introduction into service.

"We took this action with great reluctance but were left with no alternative."
The RMT is also in dispute with GTR over the related issue of 12-car working on Southern, and this has led to a 48-hour strike being declared for tomorrow and Wednesday. Services on many Southern routes will be disrupted.
Reader Comments:
Views expressed in submitted comments are that of the author, and not necessarily shared by Railnews.
Gatwick Express may have operated without conductors for 17 years but have they ever run like this in 12 carriage formation ? Which seems to be the reason behind this dispute.

It also raises questions over the new fixed formation walk through 12 carriage Class 700 trains which are about to be introduced on Thameslink services which because of there design don't have a convenient place for guards to be stationed like shorter trains with driver cabs have.

This also raises questions as to why GTR has not agreed use if longer trains with unions ahead of their introduction?

The simple fact is continued growth in rail usage is going to lead to greater use of 12 carriage trains or similar trains of same length .

I think Gatwick Express should turn their back on driver-only operation and start using guard operation. I don't see it happening though as the doors on their trains have been controlled by the drivers for the last 17 years, as stated in Railnews' article.

"There has been incident after incident attributed to DOO, far more than double crewed duties" ... This statement is misleading, the incidents with DOO relate are not related to the lack of the guard but where the driver is the sole dispatcher. Gatwick Express services are limited stop and call at stations with dispatchers. So I the RSSB would be satisfied.

The judge in this case has ruled that ASLEF hasn't followed procedure, and it doesn't seem they have raised a concern to the ORR. It seems that ASLEF/RMT are making a stand about the new plans from Southern/GTR, hence why this is only becoming news now

There has been incident after incident attributed to DOO, far more than double crewed duties. If the Union have stated the trains are simply too big, surely the HSE/ORR should thoroughly re-assess the method of working for these specific trains, then publish their findings.

The legal system has to be accountable, and in my opinion any judge who makes an unexplained shortcut by intervening in this dispute prior to a thorough safety re-evaluation should, without privilege, be held criminally liable for any accident that arises resulting from single man operation on these 12-car sets.